I'm trying to figure out how to make some cute ornaments with minimal cost for our church. So far this is what I've come up with : 1 sheet of cardstock to create 11 of these.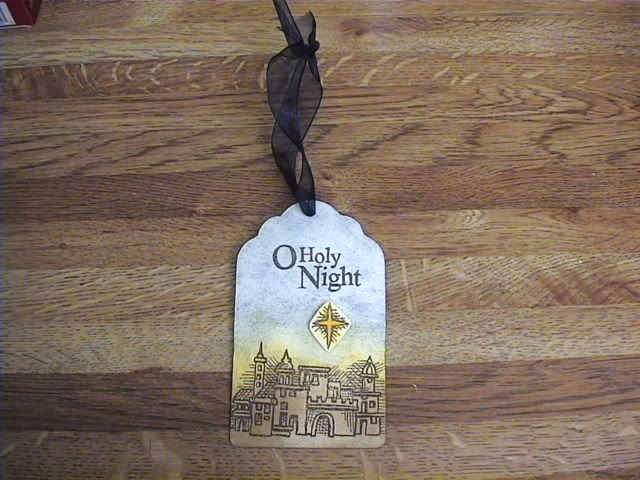 Closeups of the front and back of the ornament/tag: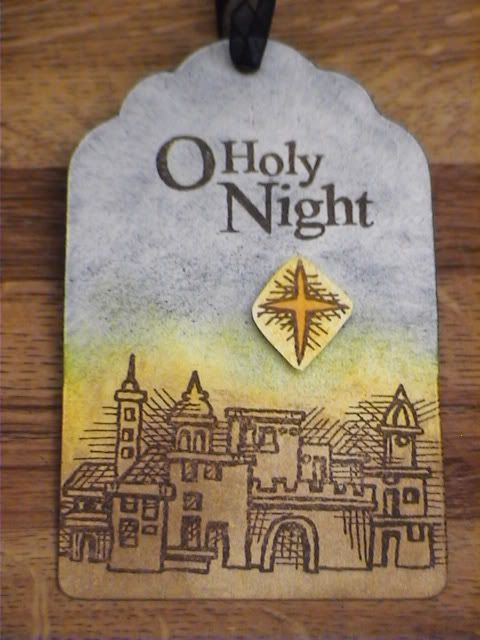 Colors : Outdoor denim, Honey, Desert Sand, Cocoa
Stamps : Bethlehem
Accents : Outdoor denim bulk organdy and pop dots to give the star dimention
Recipe : I used my coluzzle tag template to cut 11 tags out from Col White cardstock then used the remainder scraps to stamp out 22 stars (2 stars for each ornament: one on the front, one on the back). The city was stamped first on both sides with cocoa, then the scripts. I sponged outdoor denim for the sky, a layer of honey below that for glow, then the city in desert sand. The stars were cut out and pop dotted for dimention on the tag. I used a small hole punch to make a spot to thread the ribbon through then simply tied a good amount so that it could hang like an ornament. It came out very pretty I think for not having anything but one layer of CS and no b&t.