I've noticed that a lot of ladies post pics of their scrap spaces. I don't have a scrap room or even a real stationary corner since I scrap on my dining table, lol. So all my stuff is pretty much easy to move and is actually stored elsewhere (basically anywhere up high out of my tot's reach or in the closet). All my stamps are in photo boxes (they can hold 25 in a box and are very cheap) and most all of my other scrap stuff gets put into my Crop in Style XXL, which when packed right can actually hold everything I have except the stamps and my cuttle bug machine (yes that includes all my paper, punches, inks, embossing heater and powders, we are talking everything. When I get to scrap then I claim a couple extra baskets, that just hang around to keep whatever in, to hold embellies I've been using a lot so that I have easier access to them while I'm crafting. I also keep my inks out when I'm scrapping instead of in the Crop in Style. Everything is quite tidy when my scrap stuff is put away, but when I get the chance to create WATCH OUT!
The left end of the table while I'm working :P Yeah, I'm a messy scrapper. My creativity thrives on clutter! (this was taken today while I'm in the middle of my next set of scrap pages which will get posted sometime tonight after I finish :D) Just thought I'd take a break and document my little bit of chaos which 'sometimes' gets cleaned up before dinner lol.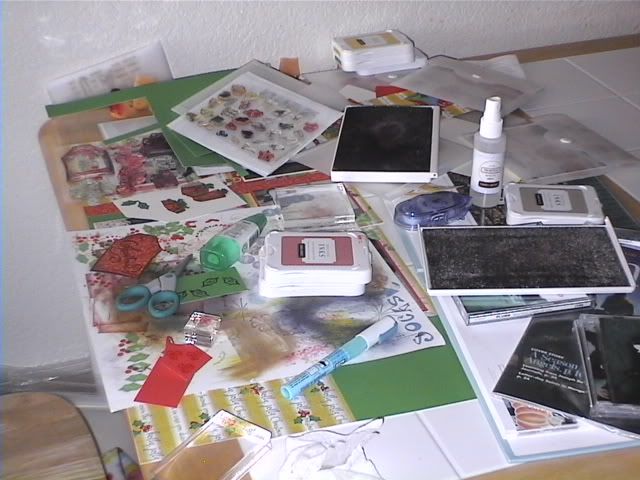 The mini table behind where I sit. I keep the inks there and just kind of toss whatever I'm not currently using back there as well lol. The mini Christmas tree is taking up half the table so I have to be a bit more careful with the mess than usual.

The floor behind where I sit. I like to keep most all my stamps where I can see them because if I don't see it, it doesn't get used!! And I'm lazy and don't want to keep getting up to see if such and such stamp set works with what I'm doing. I want it all right there around me lol!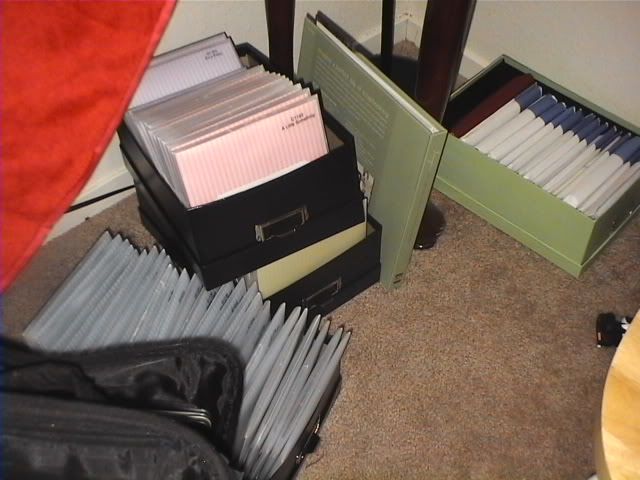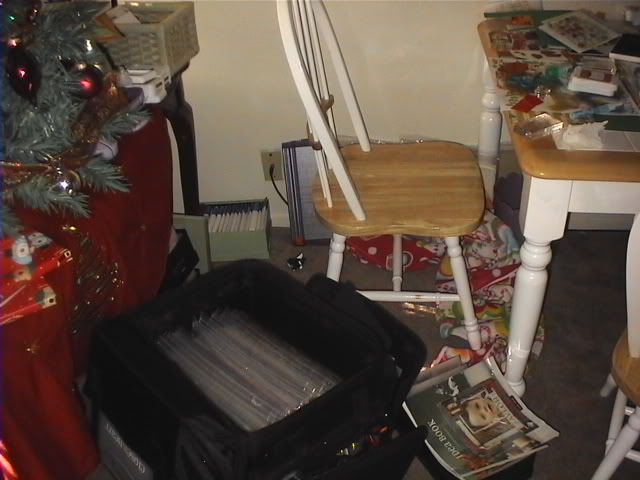 My big XXL Crop in Style sits next to me holding all my papers, adhesive, along with everything else so that I have easy access to it while it does double duty and blocks my tots from getting into what I'm working on (well it actually only stops them when they aren't determined to play with my stuff, lol). So all that is what my hubby sees and probably my girls too, but this is what I see because I'm focused on just the tiny section of this mess that contains the pieces I'm working on.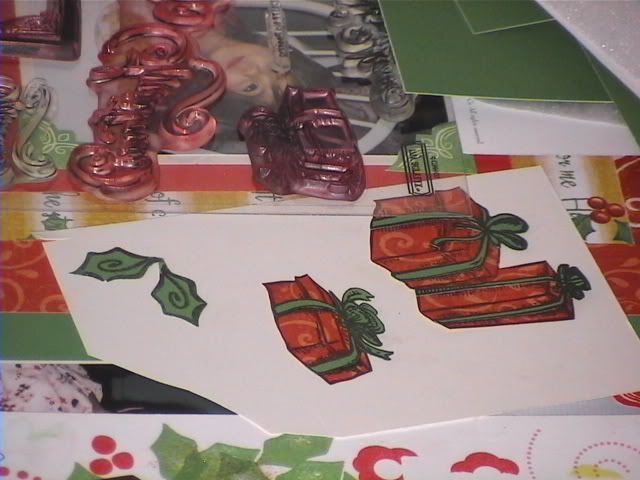 Anyway, there's my fun little break in the middle of the day. Just thought I'd share :D