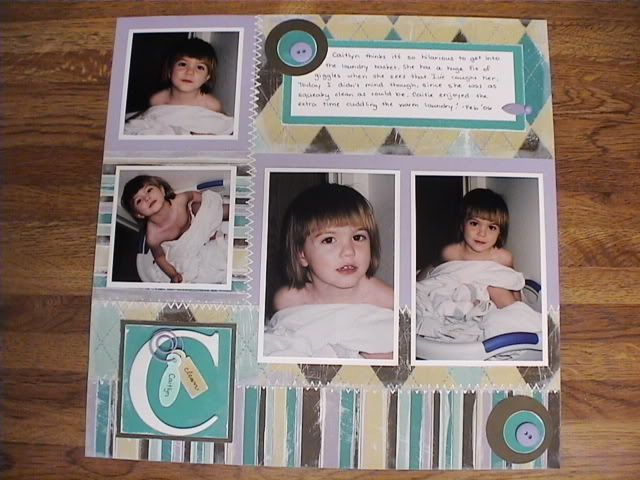 Colors :
Amethyst, Breeze, Ocean, White Daisy, Cocoa, Bamboo
Paper :
Cocoa Cafe ('05?)
Stamps :
Simple Stitches
Accents :
Simple Alpha Dimentional Elements, Ribbons and Tags Dimentional Elements, Amethyst Accents, sandpaper, white embossing, white daisy ink
Imagine Layout - Understudy (right)

This was an interesting layout to do. I picked the papers more because I've been wanting to use these cocoa cafe papers than because they matched the pictures. Since the pictures were mostly just white I could pretty much pick any paper I wanted. How the layout was choosen was actually pretty funny. I going to look through my Imagine again for another layout to use and I just happened to flip right to the Understudy page. I took one look at it and decided 'yeah, that will work' and went straight to putting it together. My favorite part of this layout is the dimentional C with its tags hanging off the swirly. Simpler than my last few pages but still very cute in my mind. The paper really takes the show in this page.