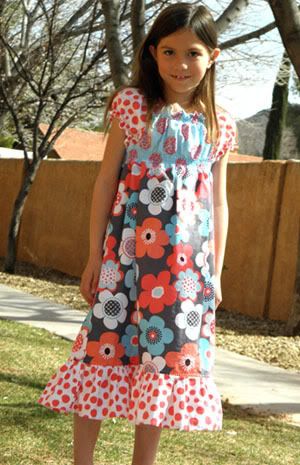 I heart this fabric so much and I'm so glad I've been able to get 2 full dresses out my scant purchase of it, lol. A couple weekends back, right before the kiddos got sick with RSV I made a couple dresses for C using the peasant dress option from the
Claire pattern by Portabellopixie
. Sandi doesn't seem to have any in the shop right now and even though she sells them online, I got mine from a local quilt shop during the summer. It's a great pattern and I've had fun with the peasant shirt and dress options so far. I haven't gotten pictures of the first dress yet even though she's already worn it about 4-5 times since I put it together ;) But here's the second one I made, using some of the leftover fabrics from A's dress last summer.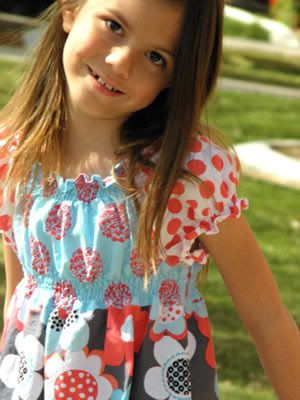 I sized up to an 8 with the dress, just like with the shirt pattern so that C can wear it a bit longer. While the first dress shirred great I was actually worried with this one since the fabrics are higher quality and so they are a bit thicker. I wasn't sure how it would shirr and after ironing, it seemed the dress would be too big. But a toss in the wash shrunk the shirring down a lot more than my simple blasts of steam and I'm happy to say C can wear it and has worn it plenty since it's been made!
Here are the girls together, both of them in their woodland delight dresses. I still have a little of this fabric left over ;) I'm looking forward to figuring out if I can get another full shirt or skirt out of what I've got left. Paul is all excited for Dragon Age II, which has it's midnight releasing tonight. He and Mark will be going to pick it up at midnight since we'll be leaving bright and early tomorrow morning for the drive up to SLC for the surgery. Of course being a guy his priority is making sure he gets his game before we have to leave, even if he doesn't get to play it right away, lol. I have to admit as his gaming-nerd wife that I'm excited too, but I'm trying to ignore it since I don't really have time to play with all the homework I've been bringing home lately. Anyway, I hope you enjoy this peek at C's newest spring dress and have a wonderful week!