Colors :
Hollyhock, Heavenly Blue, Orchard Bouquet, Olive, Topiary, White Daisy
Paper :
Cherish 2006 Calendar
Stamps :
Essential Alpha
Accents :
Clear beads, rhinestones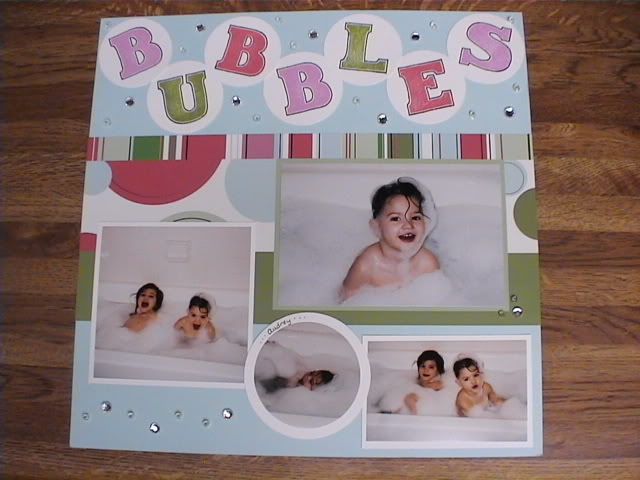 A close up of the title. Stamped in color ink then the outside line of the stamp was traced with a black .05 pen. Circles cut from coluzzle small circle template.
I adore how this came out. I've been so stuck on blue and yellow or blue and orange for bath pictures that this was such a nice change. It's so much more feminine and after looking at the very bubbly pictures these papers actually came to mind so I pulled out the calendar and the B&T to see if it would work. I cut the cherish calendar page again. After comparing the calendar page to the B&T I realized the colors were a bit off. The gloss paper of the calender makes some colors a lot brighter so I opted to but this layout as well, this time into three pieces instead of just two. It's mounted on heavenly blue CS with just the beads and rhinestones as embellies. I ran out of glue dots for the rhinestones but the liquid glass worked great with those as well as the beads. I hope they come out with more paper packs like the days to cherish.