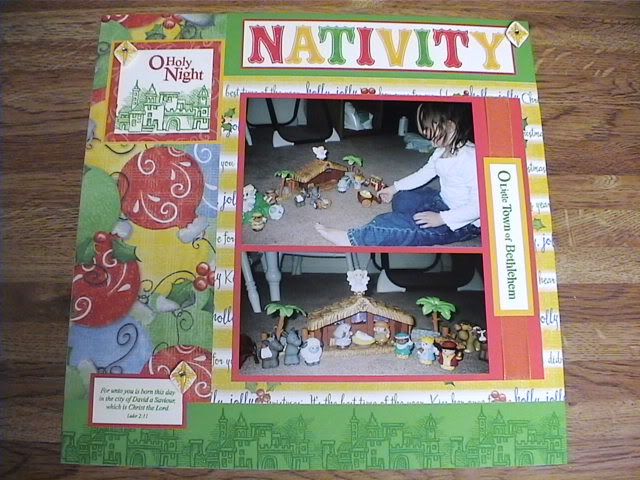 Colors :
Clover Meadow, Holiday Red, Honey, Col White
Paper :
Hollydays ('06)
Stamps :
Bethelehem, Homestead Alpha, Sans Small Lowercase
Accents :
Liquid Glass, Mini Sparkle, yellow organdy, pop dots,
I'm still debating whether or not I want to color in the town. I'll see in the morning, it's late right now and I'm tired. The stars were fun, I added a sparkle with liquid glass then put liquid glass on the rest of the star to make it a little more shiny.
I'm so glad this scripture fit perfectly in that spot. I needed some sort of embelly there and this went just right with the bottom Bethlehem border.



More fun techniques. I love doing this with words or single letters.
This layout was actually quite a challenge. There wasn't anything in either Cherish or Imagine that really 'fit' with the pictures I had and I didn't want to cut them down very much. Imagine's In the Groove gave a great starting point for me though and enough room to expand the photos I didn't want to cut down. I used the basic layout but then did my own photo mats and placement to fit the photos I had. Bethlehem is also one of my favorite Christmas stamps so it was a treat to finally get to use it in a layout!