Colors :
White daisy, holiday red, crystal blue, grey wool
Stamps :
Winter Reflection, Snow Friends, Newly Fallen Snow, Christmas Scripts
Supplies :
Vellum Circle tag, White Daisy Sassy Strands, Blue dot organdy, pop dots, shimmer chalks, stazon white, blending pen, acetate sheet
The front: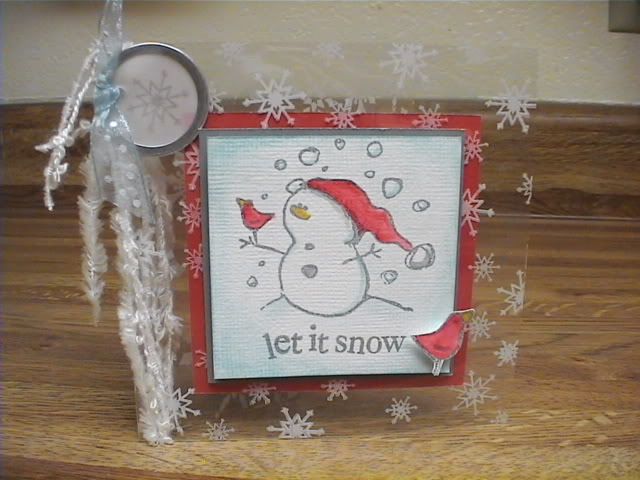 The Inside: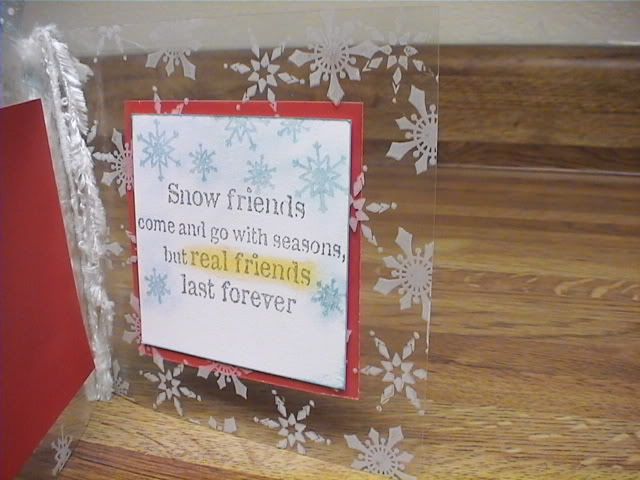 Laying down. You can see the snowflakes better this way I think.

This was my first attempt at an acetate card. The pop dots really add a lot of dimention to the card itself that I probably didn't need the sassy strands and tag but I wanted to do a bit more texture since I usually make simple cards. I keep trying to figure out how to make wowie cards :D One of these days I'll get it!
Recipe : Acetate was cut 4x8 and scored in the middle to make a 4x4 card. Small snowflakes stamped on the front with white stazon then big snowflakes on the back. Set to let dry. 2.5x2.5 square cut from textured white CS then stamped on with image and script. Colored in with blending pen and matching inks, background distressed with shimmer chalk, white shimmer chalk used on snowman. Image pop dotted onto a grey wool mat 2 5/8 X 2 5/8. 3x3 mat cut out of hol red and glue dot to the INSIDE of the front acetate card panel (This is to hide the glue dots that will hold the stamped image to the front). Snowman on matted cs glue dotted and centered over the red cs to the front of the card. Bird stamped, colored, cut out, and pop dotted to the front. Inside was stamped and colored on white CS 2.5 x 2.5. Red back glue dotted to back for the mat 2.75 x 2.75. Snow flakes were stamped in versamark then run over with shimmer chalk. Shimmer chalk used to highlight script. Sassy strands wrapped around card and tied together. Snowflake stamped on vellum tag then attached with scrap blue ribbon to sassy strands.