"Try to say this please...." -Fox
I'm in this really cool Dr. Suess swap and I have Fox in Socks, one of our family favorites, and Sally from the Cat in the Hat. This one is my Fox page. I only have 1 out of 10 done but they aren't due until February. Here's what I will be making!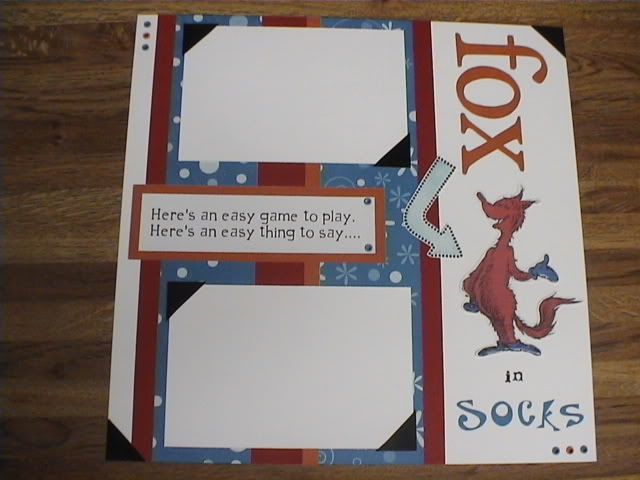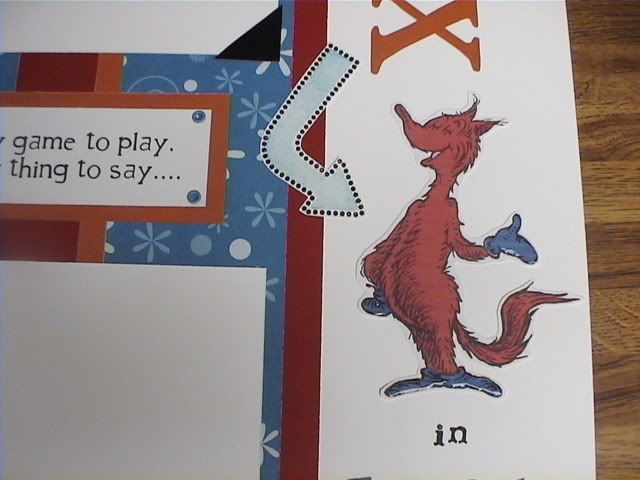 A close up of fox. He has liquid glass on his socks!
Colors :
Cranberry, Starspangled Blue, Autumn Terracota, Black
Paper :
Carnival B&T ('07)
Stamps :
Star Struck, Whimsy caps and lowercase, Storytime lowercase
Accents :
Bright blue and orange eyelets, second generation arrow in SSB
This is my fifth 12x12 swap page and it's the first one that my original graphed out design didn't get used. I did CUT my pieces to the original design but after laying it out I just wasn't feeling it. After going back and forth with what to do I finally got to this and I'm quite happy with it even though it's so different from the original plans.
Recipe :
The page itself is pretty self explanatory. I cut cranberry and autumn terracota cs strips and two bigger star spangled blue b&t strips then set them side by side to make a small bit of striped background. 1" squares were cut on the diagonal to make the corners for the photo mats and page. FOX was cut out using our dimentional alphabets as a template (I have to make 10 of these so I didn't actually use the chipboard on the page). Arrow was first stamped with black then the inside stamp second generation in star spangled blue, cut out and glued. 'in' and 'Socks' were just stamped directly onto the page and fox was scanned from the book then printed out in color and cut out. After everything was glued down and the eyelets were set I put liquid glass on his socks and let him sit overnight to dry. His quote was printed from my computer, both fox and the quote were printed onto cardstock.