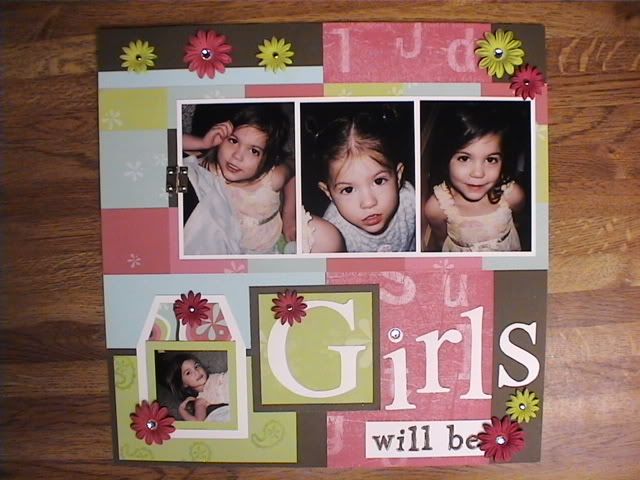 Colors :
Hollyhock, Cocoa, Sweet Leaf, Heavenly Blue, White Daisy
Paper :
Groovy Blossoms ('06), Garden B&T ('07)
Stamps :
Charmed Lowercase
Accents :
Paper Flowers (Prima), Rhinestones, Silver Brads, Silver Hinges, Dimentional Elements Simple Alphas
This turned out so much better than I thought it would. First off I wasn't too crazy about all the pictures but I'm one of those people who likes include every photo in the scrapbook (some get hidden but most are showing). Second of all, I wasn't really into the layout I picked, Open Forum in Imagine, but the layout was the only one I found that fit with the photos though it's one of those layouts that I'm not too comfortable attempting. I've also been trying to use up my old '06 year paper to make room for the new stuff that will come out in Jan. I loved this square paper but wasn't sure it went with the photos since I usually match colors to clothing. However, despite all my reservations, I set to work and just let my inhibitions go. And it was worth it because I really love this layout. It brought out the good photos and made the not so great photos still look good with such a cute layout. I was going to do the flowers the same way they did in the example but decided at the last minute to just do my own thing. They really complete the layout!