Colors :
Sunflower, Kiwi, Heavenly Blue, Baby Pink, White Daisy
Paper :
Precious Paisleys ('06), Harmony B&T ('07)
Stamps :
Precious Alpha, Boutique Alpha
Accessories :
Just Blooms in White Daisy and Autumn Sunflower, Green Paper Flowers (Prima), White brads and buttons, Baby Pink My Accents set pieces, Daddy's Girl Buttons (unknown), Edge Distresser, White Daisy ink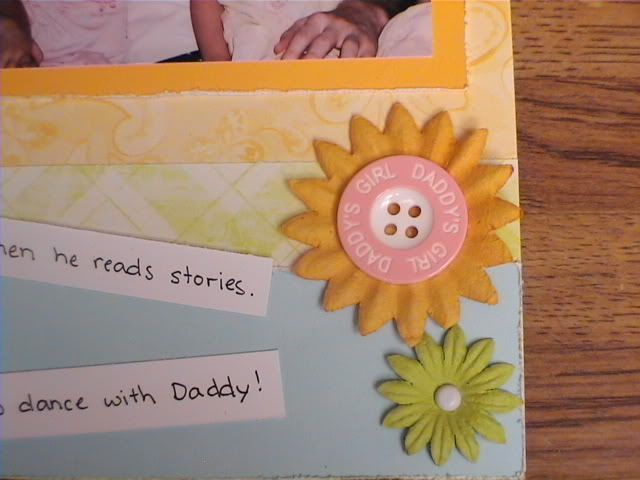 I have had these daddy's girl buttons for 4 years lol. I bought them just before Caitlyn was born and just hadn't found the right layout to use them on until now. They went PERFECTLY with the sunflower blooms! This uses Imagine's Subtitles sketch, the right-hand layout. It's been a while since I've done a really nice daddy/daughter page and I really wanted to make this one special since all three of them were actually smiling at the same time in the pictures! Tons of flowers and accents used in this layout but the turn out is well worth it!
Journalling : We love to sit on Daddy's Lap. It's fun when he chases us. We love Daddy! Daddy's funny when he reads stories. We love to dance with Daddy!