So I've decided to jump the band wagon with the daily ATCs and have picked out the theme of My Favorite Things. I know I probably should have started with the title card but I was really in the mood to do something with this stamp set. I figured I could also try out all the techniques I'm afraid to try out on bigger projects on these small ATC cards.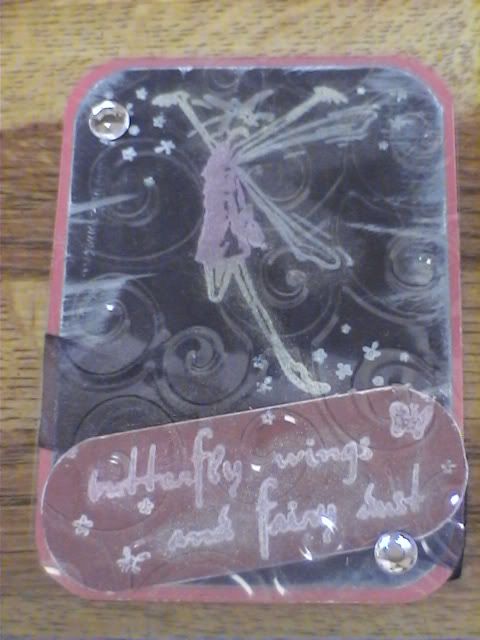 Colors : Outdoor Denim, Vineyard berry, Hollyhock
Stamps : Fairy Dust
Accents : Outdoor denim organdy, rhinestones, white daisy ink, shimmer chalks, cuttlebug and swirl embossing folder, acetate

I wanted to try out a couple of techniques, the embossing acetate which worked fantastic and the versamark on dark CS with chalk which didn't work out the way I wanted. So I tried something different and stamped in white daisy then added the chalk and that seemed to work much better. I added the embossed acetate not only for fun but to help protect the chalk since I don't have any sealant for the card. It's really neat in real life with a lot of dimention.
Journalling on the back : I've always loved fairies. Ever since I was little they have captivated me. From Tinkerbell to the pixie trixters in D&D I've adored them all. Baby fairies, tricky fairies, elegant fairies, whimsical fairies, they all inspire me to believe in magic and see the world like a child, full of amazing fantasy and wonder.
Edit : So it's been over a week and this is the only ATC card I've done lol. But... I have made a few regular cards :D Maybe it's better this way. I wouldn't know what to do with a full deck of ATC cards anyhow lol! Should the interest rise again I might start trying to make more, but for now I think I'll stick to cards and maybe scrapbooking my favorite things!