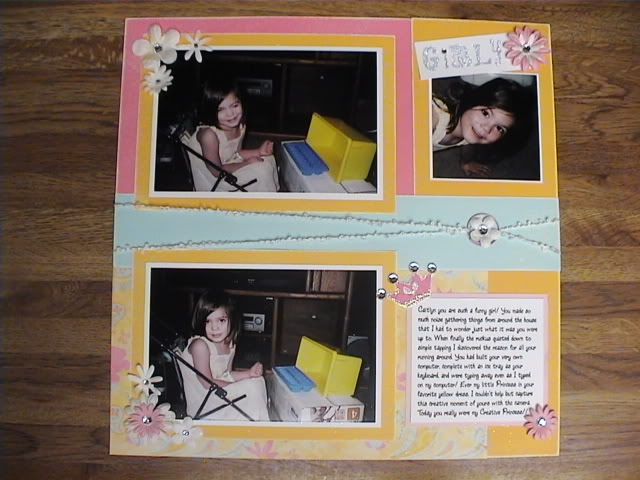 Colors :
Pink Carnation, Sunflower, Heavenly Blue, White Daisy, Baby Pink
Paper :
Precious Paisleys ('06)
Stamps :
Princess, Delightful Alpha, Homestead Alpha
Accents :
Baby Pink Swirls, White Daisy Sassy Strands, Rhinestones, White Daisy Just Blooms, Pink Paper Flowers (Prima), Liquid Glass, Prisma Glitter
I still love this paper! All the CS was sanded on the edges for distressing and to soften the look so that it would blend better with the B&T. Lots of flowers, rhinestones, and glue dots were used. A little glitter for "Princess", "Girly", and the crown. This layout actually took me an hour and a half, mostly because I wasn't quite sure what I wanted to do with it. I kept going back and forth trying to decide whether to stamp out images or just use the flowers. In the end the flowers won out. I also printed my journalling for this layout because there was more that I wanted to say than I could fit in the journalling square with handwriting. That and I don't much like my own handwriting.
The outside line of the homestead alpha was traced with my glue pen, then I applied the prisma glitter. The camera washes out the colors, they are a tad bit more vibrant than this.
I wanted to create a matching accent and at first the script was going to be Cutie, but I didn't want the letters to look so much the same as in the creative script. Tiny rhinestones are adhered with liquid glass.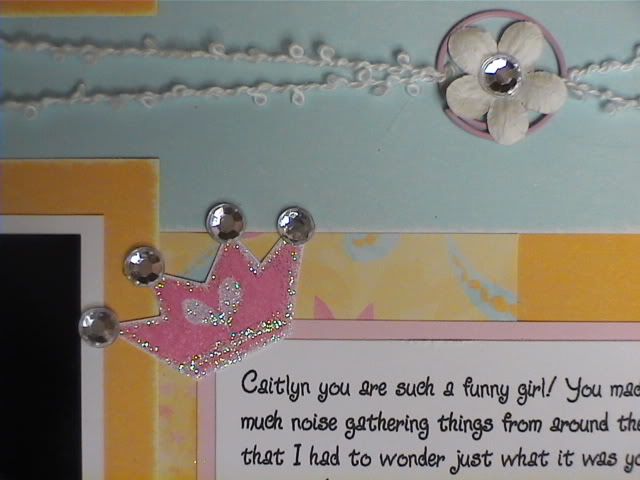 The crown was pretty fun. I wish I had the markers (my next goal to get) so that I could color the image in then stamp it and then color in the heart. But it turned out cute still, so I'm happy for now.
Journalling : Caitlyn you are such a funny girl! You made so much noise gathering things from around the house that I had to wonder just what it was you were up to. When finally the ruckus quieted down to simple tapping I discovered the reason for all your running around. You had built your very own computer, complete with an ice tray as your keyboard, and were typing away even as I typed on my computer! Ever my little Princess in your favorite yellow dress, I couldn't help but capture this creative moment of yours with the camera. Today you really were my Creative Princess!!