Jena posted an inspiration challenge last night on the CTMH forum and today I played. The challenge was to use this jordache tag as inspiration. Well I did two layouts. The first one actually bears no resemblance at all to the tag. In fact you can't even really tell how it inspired this layout. With the second layout, however, the inspiration is obvious and actually lends a theme to the entire layout.
The first layout :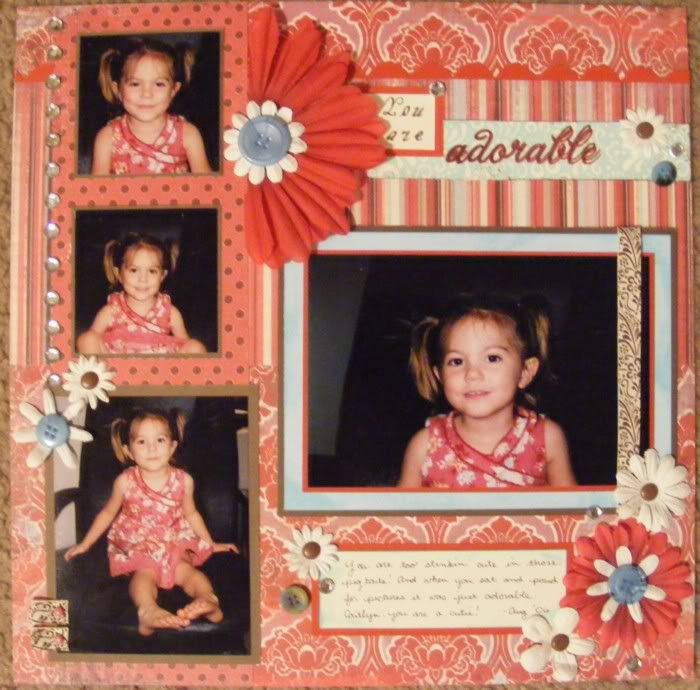 Colors : Cocoa, Hollyhock, Cranberry, Heavenly Blue, Chocolate, Col White
Papers : Minds Eye Valentine Pack
Stamps : Adorable, Amore Alphas
Accents : Rhinestones, Just Blooms White Daisy, Heidi Swapp flowers, Buttons (various), Chocolate Bigger Brads, Chocolate Ribbon Rounds, Hollyhock Brads
I was inspired by the red in the tag and casual feeling it gave. These pictures of Caitie are of her in one of her favorite comfy dresses. A dress she often wore with a jean jacket. And since the tag was from jordache jeans these pics came to mind. Well I started putting the layout together. After I picked these papers the ideas just seemed pop. I used a page maps layout for basic inspiration though I changed it up quite a bit. In the end this layout is far more pink than red and to me has nothing to do with the tag. But I started out with it on my mind for this layout.
The second layout :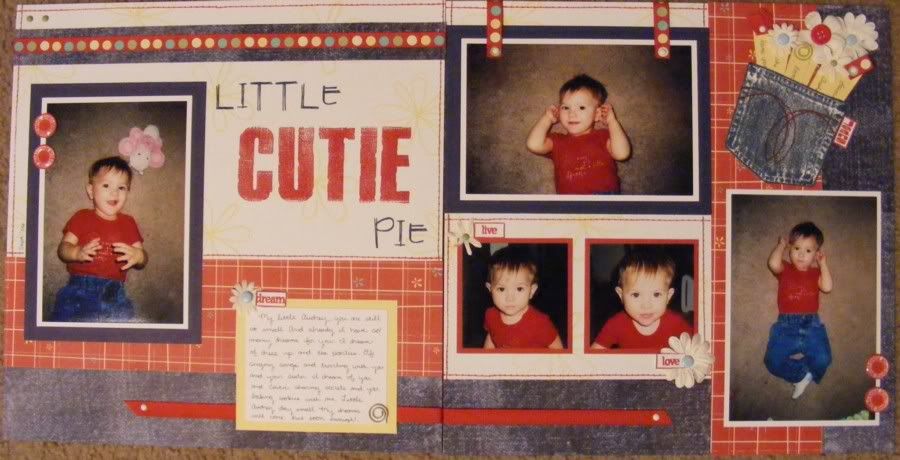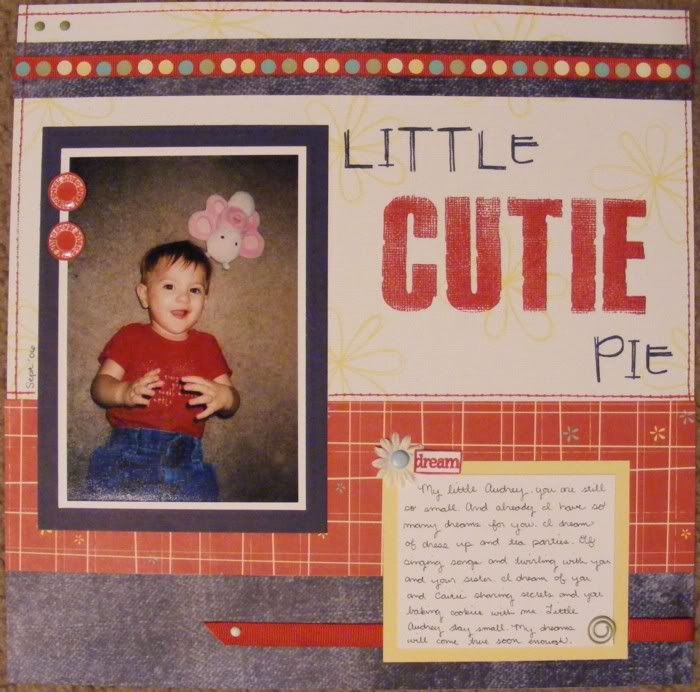 Colors : Outdoor Denim, Cranberry, White, Buttercup, Garden Green, Heavenly Blue
Papers : Back to School, Let's Get Together
Stamps : Blue Jeans, Create-a-file, Simple Stitches, Sketcky Caps, Rustic Alpha
Accents : Just Blooms White Daisy, Red Button, Heavenly Blue Bigger Brads, Garden Green Accents, Garden Green Ribbon Rounds, Circle Window Charms, White Brads, Cranberry Grosgrain
Using Monologue from Imagine. You can really see what inspiration I pulled from the tag in this layout. I took the red from the tag as well as the jeans for the theme. I don't have any cranberry, outdoor denim, buttercup, or heavenly blue accessories so this one was a tough layout to embellish since I had to make due with what I did have. I pulled the colors from the ribbon to help with embellishing. The pocket on the right page holds a bouquet of journaling strips with little facts about Audrey like her nickname is Audrey-poo, her favorite foods are pasta and ice cream, and she loves to play pat-a-cake and the popcorn song, etc.