Colors :
Baby Pink, Blush, Sweet Leaf, Cocoa, Colonial White
Paper :
Cocoa Cafe ('05), Adorable ('07)
Stamps :
Boutique Alpha, Free Spirit
Accents :
Pink and Green flowers (Prima), White Daisy Just Blooms, Baby Pink nail heads and brads, Baby Pink Grosgrain, White seed beads, Green flower brads (Making Memories),
Close ups of some of the flower detail :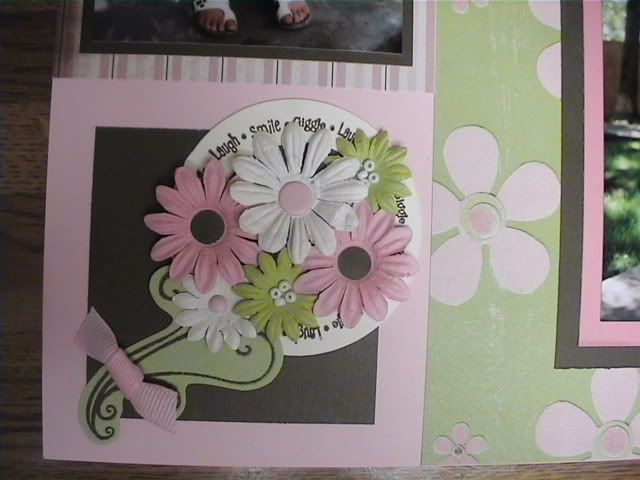 I loved making this layout. The colors are some of my favorites and these flowers are just so fun to use! The hardest part about the whole thing was cutting out my stamped letters, and that was just more time consuming than it was hard. The beads were another new discovery I made today since I had to think a little out of the box. Usually I use white brads, but I'm all out so I had to find something else to use until I can go to the scrap store (probably tomorrow or Tues at the latest!!). I've had these beads for a while, they came in the white daisy accents when they first came out. I just put a glue dot in the center of the flower then pushed the beads into the glue dot and voila! I'm thinking this would be great with darker beads for a sunflower... something to try later!