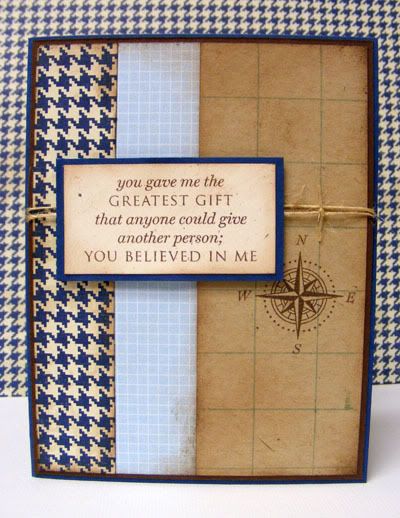 Here are the cards I made for the guys. Masculine cards are usually really difficult for me but making these wasn't too bad. This one is for the girls' poppa. C wanted to make her own goodies and drew a cute tie and wrote I love you boba. So cute! I left the spelling wrong simply because I thought it was adorable. Hopefully Poppa thinks so too. A copied C and drew a tie. I have to wonder where they got this idea since they don't often see Paul or Poppa wear ties and I didn't prompt them on this one either. I think it's crazy that they picked that up on their own to link ties and fathers day.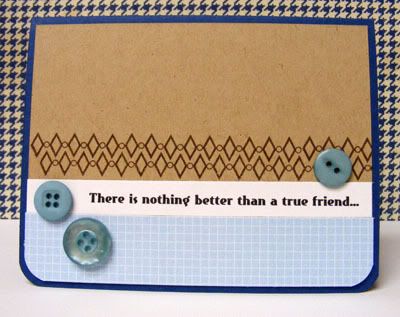 We had a birthday to go to before the weekend and so I whipped this card for our chocolate loving friend. Inside it says "except, of course, a friend with chocolate." So fitting for him! This card was the inspiration for the others. I really liked how the blues looked with the kraft and brown.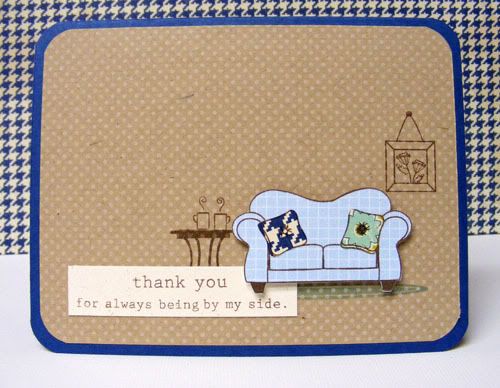 And here is Paul's card from me. I love the guy and girl pillows since that's an item of hot debate at our house ;) I kept everything else simple, not coloring any of the background stamping since I wanted the couch to stand out. The girls drew a bunch of pictures for him. A's first few ones she forgot she wasn't supposed to show him and went running back to display her hard work to Paul. So sweet! I'll be sharing another Father's Day project tomorrow since I'm still working on it right now. Enjoy and have a wonderful weekend!