Audrey's little plaid dress ;) This was one of my favorite dresses of hers last year. She's had so many cute clothes. When I scrapbook the older pictures and see the darling outfits they wore it makes me a little sad because I'm reminded how fast my girls are growing.
Caitlyn is shooting up like a rocket and for a while she was eating like a bird but this past week she's back to gobbling everything in sight! I swear every half an hour I hear her whine "I'm hungry". Meanwhile Audrey's growing taller and leaner like Caitlyn. She's starting to lose what little baby fat she had and even her cute roundy feet are getting longer and leaner. While I
love
getting and now making them new clothes, it's hard to know they grow up so fast. It's exciting to watch the new things they learn but I also miss my bebes.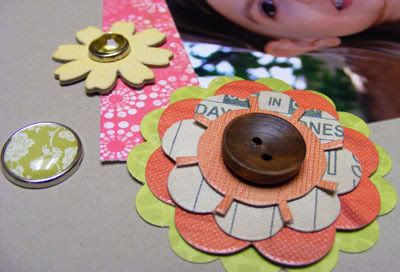 Audrey used to curl up on my lap when I called her my bebe but now she gives me one of her lemony faces and says "I'm not a baby, mom-mom! I'm a girl!" Breaks my poor mama heart! Of course if I act sad at the comment she comes rushing into my lap anyway. I just don't get to call her my Audrey bebe anymore. Now she says she's 'Audrey girl', lol. I know I totally baby and spoil my girls. Audrey will be five in the fall but I can't help it, they grow up way too fast!
Green at Heart Paper by Basic Grey
Paper Doll Collection Paper by Crate Paper
Kraft Cardstock from Roberts
Spring Sprout Blossoms by Sassafras
Lush Decorative Brads in Green by My Minds Eye
Fieldhouse Flocked Boutique by American Crafts
So Sophie Savvy Alpha Stickers by My Minds Eye
Indian Summer glazed brad by Basic Grey
Journaling Card by October Afternoon
Mini Red Alphas by Jenni Bowlin
Dear Lizzy Springhouse shapes by American Crafts