Here is the finished quilt for our new niece! I had so much fun piecing this particular quilt because it's all repurposed fabric from my girls' room when they had it garden themed. It's always fun to watch how one project turns into another, and it renews the fabrics. They look so cute together as a quilt!
This was my first time machine quilting. It was stressful, frustrating, and very rewarding, hehe. Next time I'll be trying it on a smaller project so that I don't feel as overwhelmed.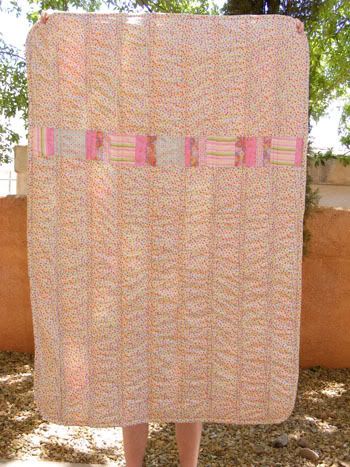 The backing and binding is made from some darling flower/ladybug print fabric that I got clearance for $1/yard 4 years ago. I had original bought it to make a bedskirt for Caitlyn's big girl bed and ended up buying one that went on clearance instead. I wish I knew how to sew this well when my girls were babies. Ah well, there is still plenty of other things I can sew for them ;) The quilt is huge instead of baby sized which is usually about 36x45. I didn't think about measuring and just started piecing together squares willy nilly!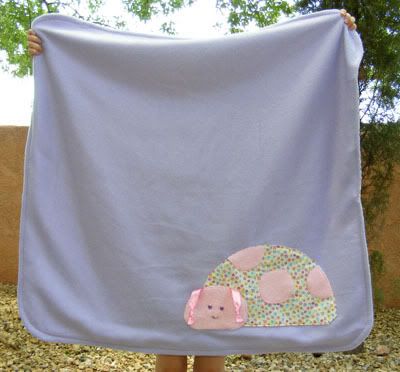 So to go with the quilt I made a mini 30x30 fleecy blanket for the car or whatever. I've never done a little applique like this. Seems there were a few new things I played with on these projects ;) I pretty much made it up as I went along and I think it turned out darling! The ribbon antennae is stitched under the head as well as the seam around for extra security and it's folded over and tied so that their won't be any frayed ends. The eyes and mouth I drew on first with a disappearing fabric marker and then embroidered. My embroidery totally needs work but the fleece was very forgiving and made it look alright. I added a backing, the same material as the quilt. The added bonus was that the only thing I had to buy was batting for the quilt, everything else I had onhand ;) Thanks for letting me share!