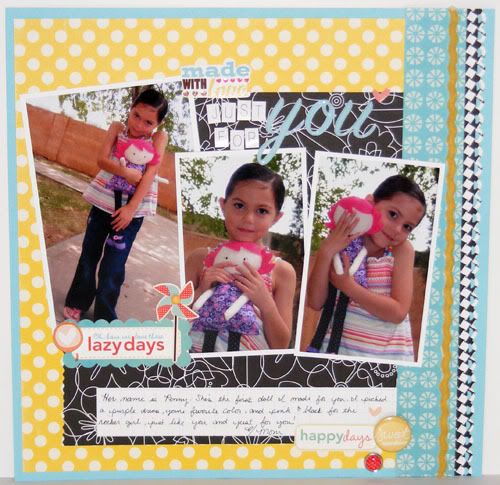 . . . just for you! I wanted to make a companion layout for Caitlyn's pictures with her first doll like I did with Audrey's. Not necessarily to match the pages, but the stories. I wrote a little mini note to Audrey on the journaling in her layout and ended it with a *heart* Mom and I wanted to do the same on a page for Caitlyn. This one also uses those darling new papers I got but I paired it with some Scenic Route scraps I had. That black and white just adds so much pop and gives the papers such a different look! Much like the dolls when I made them. Audrey had very little girl colors, pale pink hair, a little red flower dress and stripey rainbow tights, much like Audrey herself who is a mild girly girl. But when I went to make Caitlyn's doll I knew it had to be bolder, brighter, and like a 'rocker girl' which is something she is still so into. Penny has hot pink hair, a bright purple dress, fashionable black polka dot tights with purple shoes to top it off ;) And she fit Caitlyn so perfectly with her bright, bubbly, and a little wild personality. Enjoy and thanks for popping by!
Sweet Summertime Papers by Echo Park Paper Co.
Black and White Papers by Scenic Route
Cardstock by American Crafts
Lazy Days, Pinwheel, and Happy Days stickers by Echo Park Paper Co.
Dear Lizzy Dimensional and Remarks Stickers (hearts) by American Crafts
Adobe Remarks Stickers (made with love) by American Crafts
Remarks Mini alphas and Thickers by American Crafts
Dear Lizzy Button Flair by American Crafts
Treehouse Epoxy Brad by Pebbles
Yellow Candy Dot by Pebbles
Ribbon from LSS cut by the yard
Fiskars Apron Lace Border Punch and pinking scissors