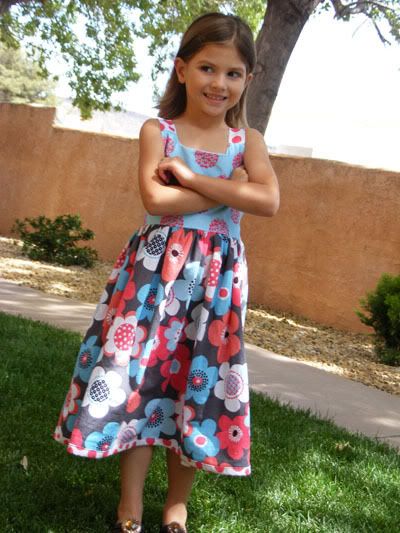 I forgot to mention in my post yesterday that the Analise dress pattern is by Portabello Pixie. It comes with instructions for 3 styles of clothing, a patch work dress, a patchwork skirt, and the party dress. I also thought it would be helpful to add that I don't have a serger. Most of the seams ended up very nice after the topstitching. The one thing I will hope to remember the next time I make this dress is to zigzag stitch the gather seam allowance before topstitching. I think that would have made that part a little neater. At any rate, here is A's dress made with the Woodland Delight fabric by Michael Miller.
A's was made in about 1/4 of the time. The biggest help was not doing any patchwork. I think that's what took so long the first time. Also I only had one gather to do since the party dress version uses binding. I could have added a ruffle and actually considered it but I'm glad I went with the binding since the dress is a little big on her. I made the size up on both dresses (7 and 5), though with C's I did cut the elastic to a size 6 since she's such a string bean. And I'm sure it helped that I had sewn the dress once before ;)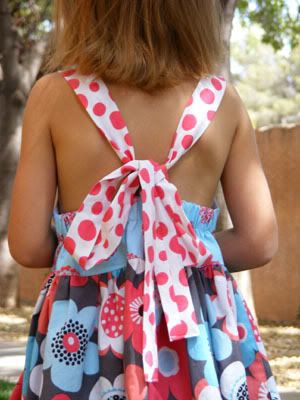 Some mistakes were still made this time around, different ones but definitely fewer. My seam ripper didn't see nearly as much action on this dress, hehe. Seeing A's back now can you tell the big mistake I made with C's? Because I patchworked her straps I forgot to add the extra dimensions for the cut on the fold so they are twice as short. Don't worry though, I'm fixing that soon ;)
It doesn't twirl as big as C's, that comes from the extra ruffle. I'll definitely be making more of these for the girls or at the very least trying the skirts. It will be sad when C passes size 8. That's where most of these darling patterns end. Of course I guess by then she'll be wanting less of a little girl style *sigh*. I'll just have to enjoy it while it lasts!