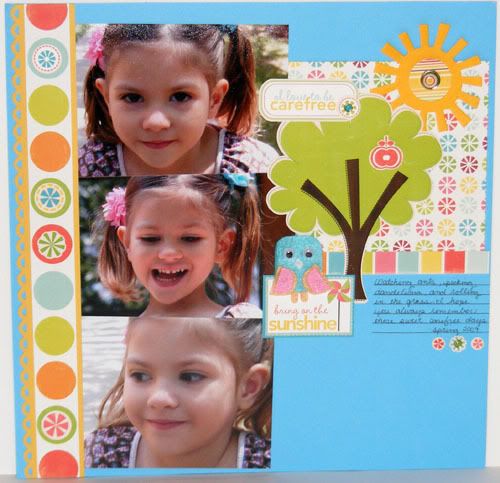 After what seems like forever, I've finally played with a new blogger template. I hope you all like it! It's not something I usually do since for the most part I like to keep my blog simple and low maintainence and I really need to go through my links and gadgets to update them and such. But for right now, I at least switched up the template ;) As for the layout, I love the cooky smile Audrey's got going on in the middle photo and I wanted to pair that with something bright and fun. Using up these stickers makes me happy. They really seem to come to life on the pages. It's hilarious watching my girls play outside. Even now Caitlyn is still fascinated with watching ants or collecting rocks. I love it when I look outside and both of them are crouched down on the sidewalk peering intently at the little ant lines or peeking under rocks to try and find pill bugs. And I love it when they bring me flowers ;) Clusters of wilty dandelions. Enjoy the page and have a fab Friday!
Sweet Summertime Paper by Echo Park Paper Co.
Farm Fresh Paper by October Afternoon
Sweet Summertime Stickers by Echo Park Paper Co.
Apple Paper and Bird Feltie by Sassafras
Lemonade Mini Glazed Brads by Basic Grey
Treehouse Epoxy Brad by Pebbles
Die Cut Sun pre-cut by Pebbles
Journaling Lines stamp set and Dark Chocolate Ink by Papertrey Ink
Apron Lace Border punch by Fiskars