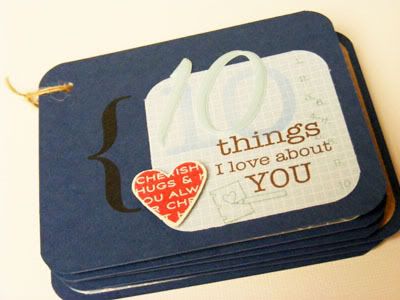 Here's the minibook I made for Paul. As much as I love to scrap, making a page or album for Father's day isn't very display compatible with his space. However, a mini book would be right at home on his desk. I opted to make this pretty small, it's only 3.5x 4.25 basically so I could cut the 6 base pieces from one piece of 8.5x11 cardstock.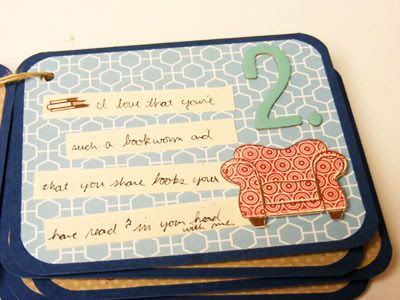 One of the first things I had to do was to plan a little bit about what was going on the pages. I knew I wanted each page to have a number, and at first I wanted each one to have a stamped reason as well but found that there were reasons I wanted to include that aren't generalized. So I made a list and then found 5 reasons that included the more generalized stamped words like sweet, caring, and smart.
There aren't any pictures, just journaling and embellishment. It was really liberating to make a project without pictures. You still get to document and decorate but don't have to match up photos ;) I simply picked a few papers I wanted for the minibook throughout and then went from there.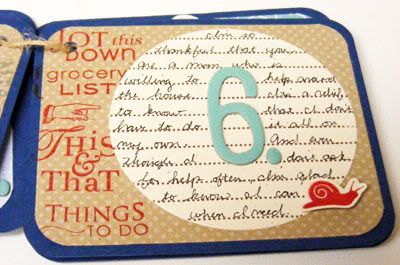 Not every page had a 'theme' but I did try to work them in as much as possible. I probably could have gone with hearts through the whole thing, but that seemed a bit Valentines to me. I did work them into a few pages though and put them with the lovey journaling.
I mixed and matched a lot of stamp sets though the main ones were Journaling Lines and the Take Ten set + additions. There's also quite a bit of dimension since I used 3d foam tape on all the images for extra depth.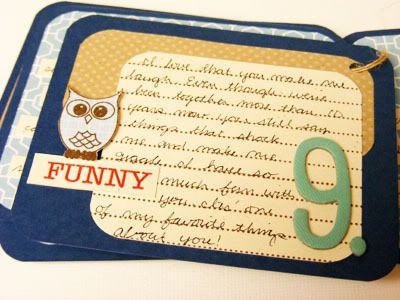 This project was perfect for using up those Thickers numbers. I love the numbers but usually only use a couple and I feel like they get wasted. Now I have a project that uses the whole range, quite nice!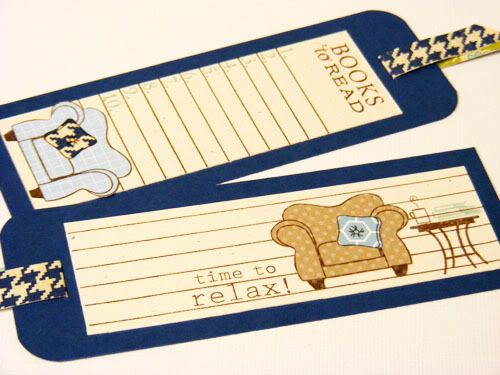 And last but not lease a couple fun book marks using some of the extra chairs I made. I love the book list one and am thinking of making a couple of those for me as well. As it is I've been using receipts, post-its, or whatever scratch paper I have laying around as bookmarks! Both of these projects were so fun, I am definitely going to be making more mini-books in the future! I hope you enjoyed and are having a wonderful Father's Day with your families ;)