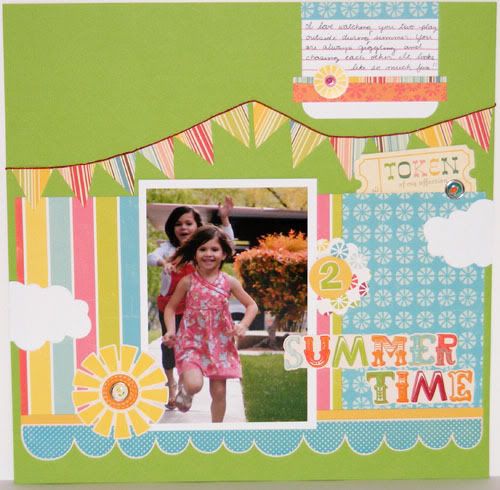 Pendant banners have become so popular and it's a trend that I adore. I'm hoping to make some for the girls' room but I'm thinking about using fabric for that and frankly I'm a little intimidated about cutting letters out of fabric or felt. However, making little banners to go on a page is much easier so I'm getting my fix that way for now ;) This layout was inspired by one at Studio Calico. Mine's quite a bit simpler but I love how it came together. The little clouds that were originally going to be with the hot air balloon worked perfectly here with the sun stickers. That main sticker sheet is nearly empty now. It makes me a little sad but also proud. All those fun goodies went to good use! This picture cracks me up. The girls love to chase each other around and it's rare that I can capture it on camera. I haven't learned how to take moving photos very well and even when I have it set to action speed I'm sure there's something more I should be doing with it. Thanks for visiting and have a terrific Tuesday!
Sweet Summertime Paper by Echo Park Paper Co.
Farm Fresh Paper by October Afternoon
Cardstock by American Crafts
Sweet Summertime Stickers by Echo Park Paper Co.
Cloud precut die cuts by Pebbles
Treehouse Epoxy Brads by Pebbles
Lemonade mini glazed brads by Basic Grey
Journaling Lines and Berry Sorbet Ink by Papertrey Ink
Token Ticket Quite Contrary by My Minds Eye