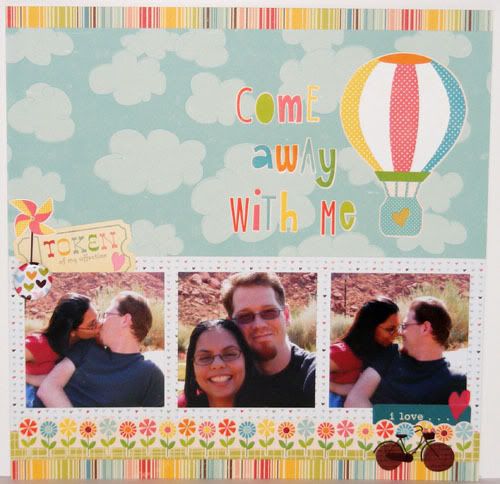 A layout of Paul and I! These are rare indeed ;) Not that we don't want pictures of us. It's just hard to get any since we usually don't think about taking pictures of us instead of our kids. And the times that I do think about getting 'us' pictures I feel weird about asking someone else to snap some. Maybe it's just me being so used to always being the one behind the camera, hehe. Last summer Paul's sister did us the favor of getting a few pictures. The hot air balloon reminded me of two songs - Come Away with Me by Nora Jones and Hot Air Balloon by Owl City. While the paper, colors, and feeling of the layout are very Owl City, I loved the idea of using the other song as the title. So I got my balloon on there and used those cute alpha stickers, plus another ticket! I love the little scene the layout makes with the grass, flowers, and little bike going by on the bottom then the clouds and balloon above ;) I hope you enjoy it and thanks for visiting!
Sweet Summertime Paper by Echo Park Paper Co.
Dear Lizzy Paper by American Crafts
Farm Fresh Paper by October Afternoon
Alpha Stickers, Hot Air Ballon, Pinwheel, and Flowers Border Sweet Summertime by Echo Park Paper Co.
Token of Affection Ticket Quite Contrary by My Minds Eye
Rubons Be Mine and Dear Lizzy by American Crafts
Button Flair by American Crafts
I love... tag by October Afternoon