I love these little pincushions! Months ago I picked up the Freshly Picked pattern at our quilt shop because this pattern by Heather Bailey was way too cute to pass by. The added plus is you get patterns for 4 different pin cushions. I wanted to make them all but after finishing the pear off it was after midnight and I thought it was probably best to call it quits and clean up ;)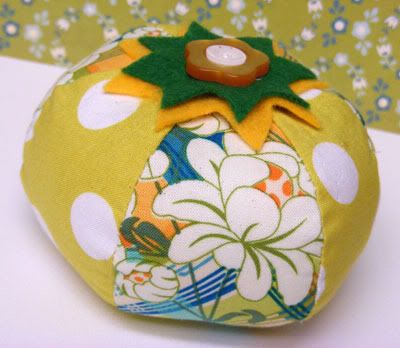 The tomato I made first and after having made the other two I can vouch that the tomato was definitely the easiest to make. It also happens to be my favorite of the three I made, though I was for sure that my fav would be the pear since I love pears so very much. But something about the tomato, maybe it's cute short and plump shape... maybe the darling double buttons I sewed on top... maybe just the colors. Whatever the case, the tomato is my go-to pincushion of cuteness!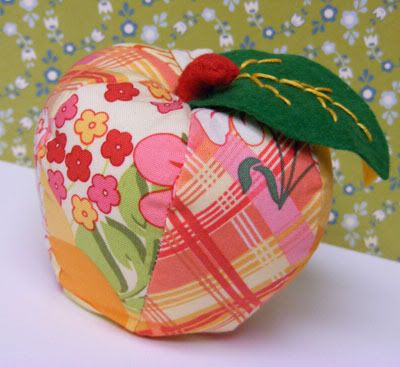 How darling is this apple! I'm thinking it would make such a cute teachers gift. Even if they don't sew this makes such a cute little softie. C hoarded it the moment she saw it. It's C's favorite fruit so of course she was in love with the apple. This one was the hardest to create mostly due to the tufting to create the apple shape. I'm sure it would have been infinitly easier had I a nice long doll needle but I'm a stubborn girl and made due with what I had in the middle of the night instead of waiting until morning to buy myself one.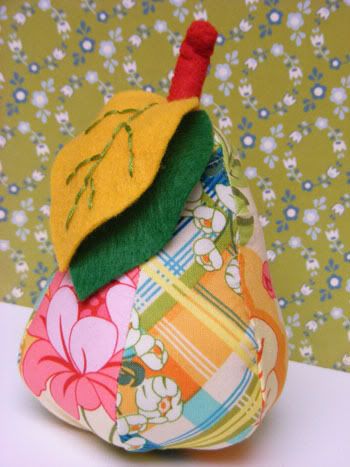 Last but not least was the pear. Doesn't it look so scrumptiously pretty! This was a nice break from the apple. It took longer than the tomato, simply because of the leaves and stem, but was almost just as easy. Though it's darling I'm not sure it makes for a very stable pincushion, it's the wobbliest of the three of them. They are so cute all clustered together on my bookcase though! The last pattern is for strawberries. I'm not sure if I'll be making them, though the girls keep telling me "You forgot to make the strawberries, Mom!"
Meadowsweet fabric by Sandi Henderson for Michael Miller