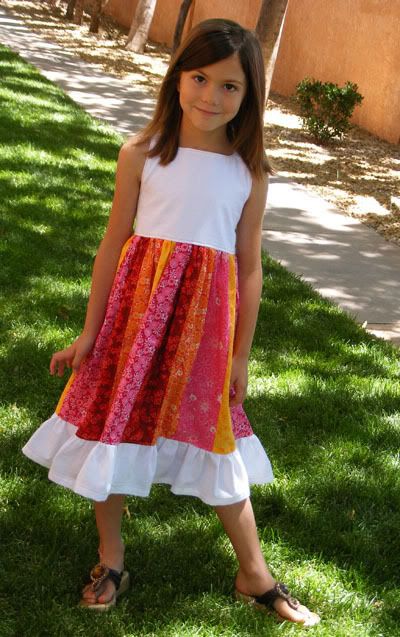 If you haven't been able to tell I've really been getting into sewing more lately. Though sewing clothes was almost a lost cause again earlier in the week. I had gotten this pattern about a month and a half ago. I opened it up, read through the instructions and looked at the pattern pieces. It was very easy to understand and seemed simple enough for me to try out. At the time I didn't have fabric that I felt worked with the pattern so I pulled out a couple Simplicity ones that I had picked up on sale for $1 at JoAnns. They looked like they used a lot less material and I thought it would be better to practice on something simpler.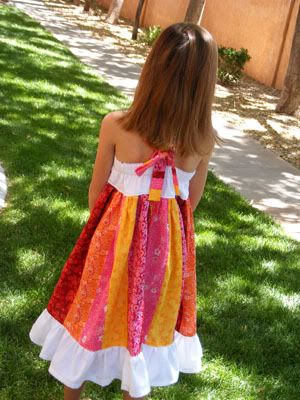 But it wasn't simple at all! There were weird markings all over the pattern pieces, the instructions were confusing with terminology I'm not yet familiar with. After pouring over the patterns I finally put them away, completely discouraged. It took me another week before I thought to just pull out this pattern again since I actually understood it and simply used what I had. The prints in this are from 5 fat quarters I bought over a year ago. The pattern calls for either two large pieces for the skirt, or provides a specific patchwork design.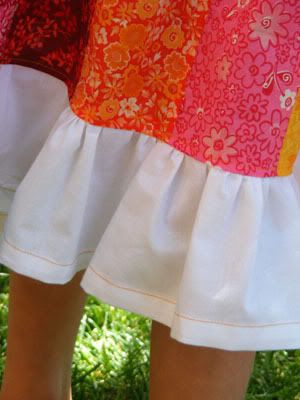 I thought, why can't I improvise my own patchworked design sized to the same dimensions? And that's exactly what I ended up doing. The fat quarters were cut as strips and pieced then topstitched. Because my finished length ended up being 17 1/2" instead of the 19" on the pattern piece, I increased the length of the ruffle at the bottom. I love the way this dress turned out though the entire time sewing I wasn't sure I'd care for it. After all it used fat quarters I wasn't in love with anymore. Now I think they are gorgeous!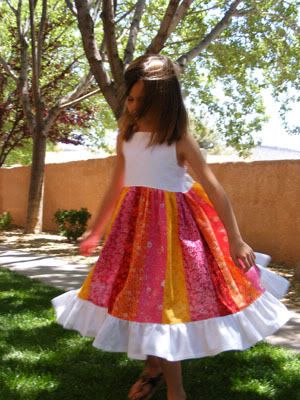 The dress is so full and fun! C calls it her princess dress. I love the way it looks when she twirls ;) Now I've got to make one for A. Hopefully I can learn from the dozens of mistakes I made while making this one and the other will move along more smoothly!