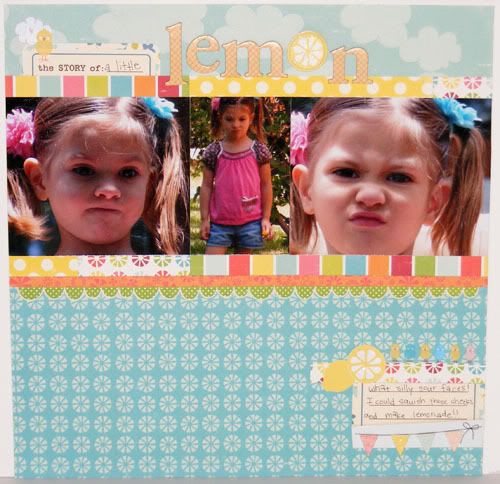 More of that Sweet Summertime set. Audrey can be such a little lemon. You may not believe so with all the cute photos I take of her but come spend a day with me and you'll see all the wonderful behind the scenes action I get ;) Seriously she spends as much time making scrunchie grouch faces and high pitched whining as she does being super sweet and smiley. She even has a grumpy Mii version of her on the Wii. It cracks all of us up especially when she goes 'look its grumpy me!' and makes a matching face, lol. We can't go a day without having a grumpy Audrey moment or 3 or 4. Though her little sour disposition is tiring at times I take solace in the fact that at least she is still adorable when she's a grumpy, grouchy, pouty, sour little stinker pot ;) This layout however is the very simple and sweet version. She's such a lemon all the time that I could squeeze her cheeks and make lemonade!
Sweet Summertime Paper by Echo Park Paper Co.
Journaling Tag by October Afternoon
Thickers Alpha Stickers by American Crafts
Dear Lizzy Dimensional Remarks Stickers by American Crafts
Dear Lizzy Rubons by American Crafts
Sweet Summertime Sticker Border by Echo Park Paper Co.