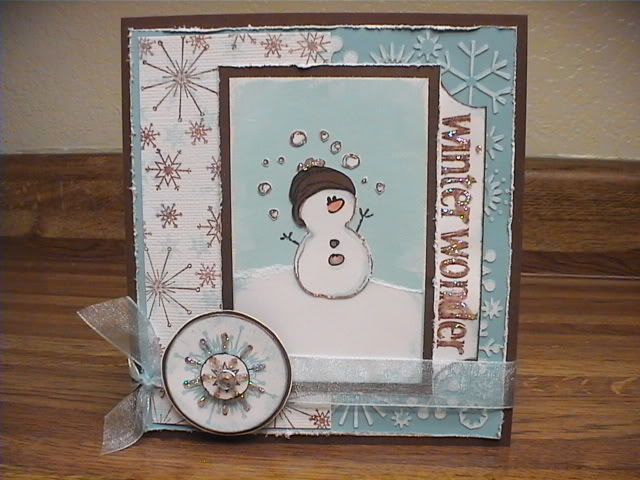 Colors :
Heavenly Blue, Crystal Blue, Chocolate, White Daisy
Stamps : Winter Wonder, Snowfriends, Newly Fallen Snow, Tis the Season to be Pretty (Hannastamps)
Accents : Heavenly Blue Organdy, Rhinestone, Crystal Stickles, Cuttlebug Embossing (snowflakes), Sanding, Edge Distressing, Pop Dots,
This card was made for http://confessionsofastamper.blogspot.com/ and her blog candy challenge. She already used the Hanna stamp I wanted to use to make my card so I tried to some up with something different. I might make another card entry with my new hannastamp anyway though!
I was having a hard time with the stickles, it's my first time using them. The pick was taken while it was still wet even, lol. This was a fun card to make! I like how all the layers came together and the stamping on the textured white cardstock. The card ended up being a weird size since I didn't start out with a set size, 5 3/4 x 5 1/4. I also spent way to much time trying to cut out all those little snowflakes above the snowman lol. But all in all I've very happy with the result. I'm going to have to use these colors together again!