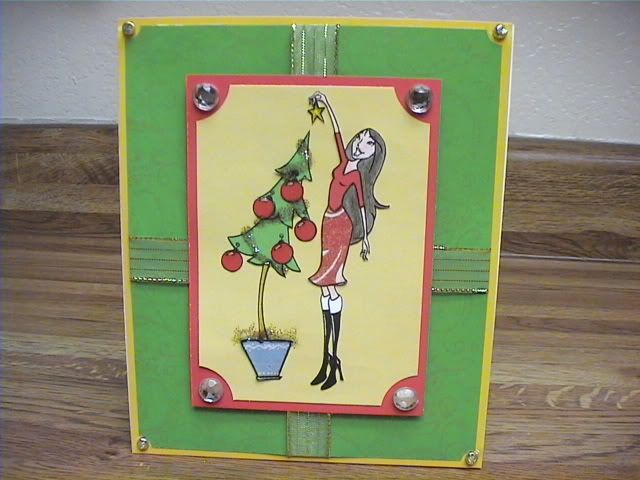 Colors :
Honey, Clover Meadow, Holiday Red
Paper :
Hollydays ('06)
Stamps :
Tis the Season to be Pretty (Hanna), Adorable Backgrounds, Solo T (for the planter pot)
Accents :
bigger rhinestones, gold brads, gold ribbon, liquid glass, gold stickles, galaxy gold ink
Wow this is just one of those cards that the picture really doesn't do it any justice. The green background is stamped with galaxy gold. You can barely see it in the pic but in real life it's nice and shimmery. The star has glitter on though you can't tell and my gold glitter looks horrid on the tree in this pic, lol. It's actually very glittery instead of looking like a smudge lol. Skirt was pieced from Hollydays and the light yellow background is the last of my yellow stripe b&t, the back side. Pot is also piece from the B&T then drawn on with a white gel pen. The ornaments and pot have liquid glass on them.
A slanted pic to try and show the shimmer. It's such a fun card in person :D