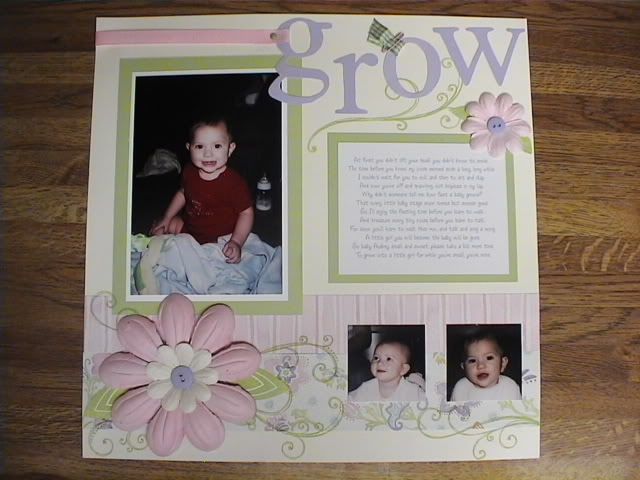 Colors : Amethyst, Baby Pink, Sweet Leaf, Col White
Papers : Sweet Harmony ('07)
Stamps : Playful Flourishes, Seredipity (leaves) , Solo B
Accents : Big Blooms Pink, Amethyst buttons, ribbon (various), baby pink safety pins, Dimensional Elements simple alpha and ribbon slides, garden green brad
This layout has been sitting on my table unfinished for the past 2 days. All because of Heroes!! My hubby and I don't watch TV, but a friend said we had to see this series and brought over the first season on DVD. Needless to say we are hooked!! We've gone through the first 4 discs (out of 7) in the past 2 days!! All after the girls have gone to bed! Well, I finally finished this layout tonight and it's actually a good thing that it took me awhile because my order arrived today so I got to use the new big blooms and my Seredipity stamp set.
Poem reads :
At first you didn't lift your head, you didn't know to smile.
The time before you knew my voice seemed such a long, long while.
I couldn't wait for you to roll, and then to sit and clap.
And now you're off and crawling, not helpless in my lap.
Why didn't someone tell me, how fast a baby grows?
That every little baby stage soon comes, but sooner goes.
So I'll enjoy the fleeting time before you learn to walk.
And treasure every tiny noise before you learn to talk.
For soon you'll learn to walk then run, and talk and sing a song,
A little girl you will become, the baby will be gone.
So baby Audrey small and sweet, please take a bit more time
To grow into a little girl for while you're small, you're mine.
by Diane Woolley, the last three verses changed by me to fit what I wanted and still have the same theme.