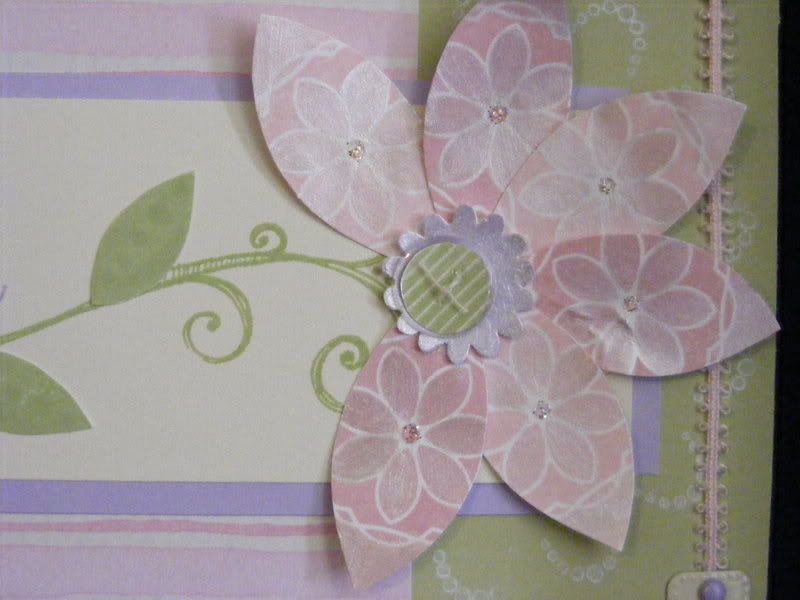 Colors : Baby Pink, Blush, Amethyst, Sweet Leaf, Col White

Papers : Sweet Harmony ('07)

Stamps : Serendipity, Playful Flourishes, Doodle Alpha, Adorable

Accents : Circle Windows, Edge Anchors, Amethyst brad, Col White waxy flax, ribbon (unknown), stickles, pearl paint, white daisy ink

I made this from an idea that popped into my head while making the last layout. I haven't put it on a card base since I'm still undecided on whether to make it into a card and add a few more embellies or to put it on a layout, size is 4x8. I put some pearl paint on the flowers in the petals and on their tips as well as the amethyst middle. The first pic is with the flash which really makes the paint shine up. The second is more how it looks. Fun to make though a little difficult with the paint at first. I used a very thin layer. I think the paint is more white than clear so if it's too think than the color won't show through. This Serendipity stamp set is just way too cute. I have yet to use the papers though and I'm in baby mode right now (not baby hungry thank goodness!! lol). So I've been trying to do some of Audrey's first year in between playing Wii tennis and watching Heroes along with regular mom duties lol. Doesn't leave much time for creating lately :D. But hopefully Mark will take his stuff back home soon so I won't have so many fun toys to play with lol.