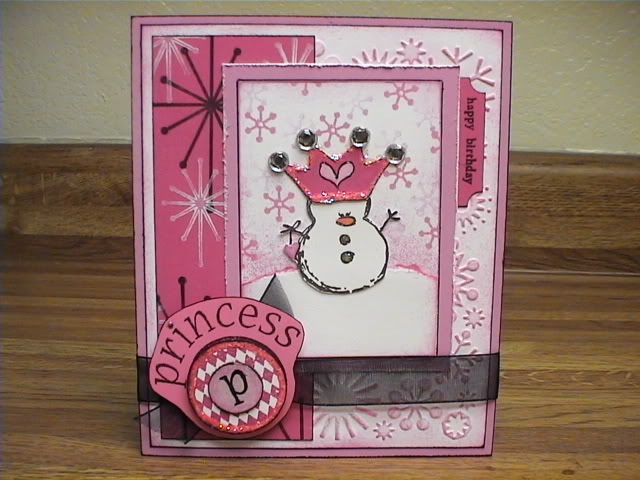 Colors :
Watermelon, Bubblegum, Orchard Bouquet, Black, White Daisy
Stamps :
Glistening Snow, Princess, Snow Friends, Ho Ho Ho, Seasonal Thoughts
Accents :
Rhinestones, Stickles Crystal, Liquid Glass, Black Organdy, White Daisy ink, cuttlebug embossing (snowflake), pop dots
I feel so bad. I totally forgot that tomorrow we are celebrating Caitie's birthday (it's not until next Saturday but this is when family was available). So I've been frantically trying to put this together before I go to bed since I KNOW I won't get the chance to tomorrow before the party. The liquid glass and stickles are even still wet in the photo because I'm pretty sure I'll forget to take a picture if I wait until tomorrow when it's dry. I used the same sketch as the last card. I wasn't really feeling very creative with a design and decided the sketch was so cute that it doesn't hurt to use it again in almost the exact same way lol. Lots of fun glitter on this one. I think I did a little better controlling the stickles but I from now on it'll probably be a strictly 'big coverage' glitter item. Detail glitter I think I'm still better off with the prisma and a glue pen. I glittered her crown, buttons, the i in princess, and all the way around the outside rim of the P circle. Liquid glass was put on the heart in her crown, the heart she's holding, and on the center P. I embossed white daisy CS then sponged lightly over with bubblegum to make the snowflakes pop. It was a lot of fun to make this card since the colors are so non traditional for snow. And I LOVED making the crown for the little snow girl (I added eyelashes so that she was a girl instead of a snow man).