Colors :
Baby Pink, Bubblegum, Watermelon, Orange, White Daisy
Papers :
Baby Pink CS, Watermelon CS, Orange CS, White CS
Stamps :
Confetti and Favors, Solo T (for the circle)
Inks :
Bubblegum, Watermelon, Orange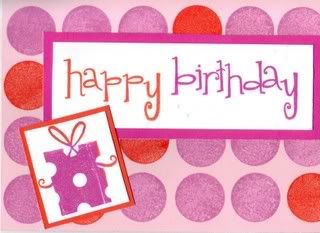 Inspired by the wrapping paper and if I had a bit more time I probably would have taken my white gel pen and doodled the cute circles around some of the pink circles that the paper had. Baby pink, watermelon, and orange cardstock; bubblegum, watermelon and orange ink; and 'confetti and favors' and the circle from the solo T stamps were used. And for as quick as I had to do it along with having a toddler squirming on my lap, I think this turned out pretty darn cute!