I finally got to look at the roll of film I just had developed and let me tell you the first time I had to do a double take when flipping through the pictures as I thought both were Audrey for a second.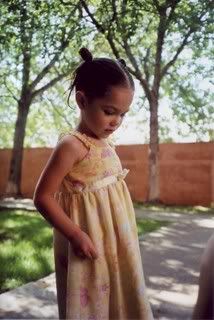 I didn't do this on purpose, or at least I don't think. Caitie ALWAYS wants to wear her yellow dress. The moment it's out of the dryer she puts it on. In fact the majority of her week is spent in 'The Yellow Dress'. Audrey I think just happened to be wearing her little yellow outfit and I usually do their hair like this or Audrey's hair in pigtails and Caitlyn's in a ponytail. Boy did they look so much alike!!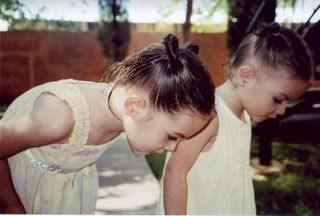 Here are both of them together looking at bugs if I remember correctly. They couldn't be sisters could they :D .