While waiting for my order to be processed, I've been slowly putting together my fairy swap layouts. Here is the base page I embossed for the layout, it's much prettier in real life!
Colors :
Vanilla Cream
Papers :
Vanilla Cream CS
Stamps :
Fairy Dust
Ink :
Embossing pad
Accents :
Kaliedescope embossing powder by Stampendous
You can see the two spots I left open because there will be paper and a photo mat over those areas. I didn't emboss those spots to save on embossing powder and time since I had to make seven of these.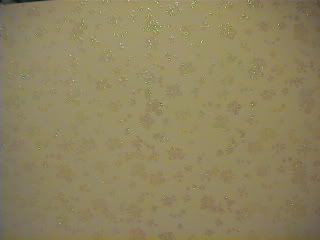 And a close up of the detail. This was tough because the embossing pad I have is supposed to be tinted slightly, but the stamp's impressions are tiny so I couldn't see where I had stamped. But even so, they still turned out beautiful!