Colors :
Smokey Plum, Pansy Purple, Black, Autumn Terracota, Garden Green
Papers :
Enchanted PP ('07), Smokey Plum CS, Autumn Terracota CS, Garden Green CS, Black CS, Textured Pansy Purple CS, Col.White CS
Stamps :
Delightful Alpha, Homestead Alpha, Sans small lowercase, Seasonal Thoughts, Simple Stitches
Inks :
Black, Garden Green, Smokey Plum
Accents :
Autumn Terracota Spiral, Garden Green buttons, clear/glitter embossing powder
After finishing my swap pages, I was really excited to get working on my regular pages. I've been trying to get together the girls' Halloween pictures since I like to scrap with a theme when I have so many. Both girls have at least a full roll of film each for halloween last year. Here was our favorite picture of Audrey with her little witchy I'm-casting-a-spell-on-you pose that was caught completely by accident.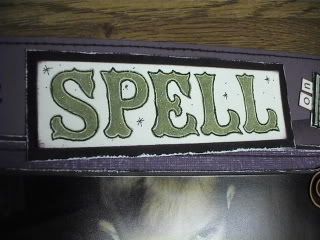 You can't really tell here, but I glittered SPELL.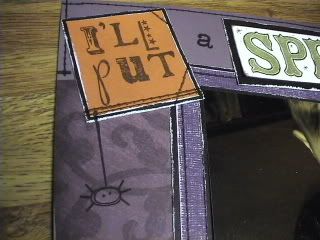 A close up look at some of the faux stitching. I A lot of edge distressing and a little ink distressing as well as sanding on the on the textured CS.