I just got my cuttlebug this morning for $39 bucks! What a deal!! I also got six embossing folders 50% off. I can't believe how easy this is to use and how great the embossing comes out. I don't much get into die cuts but the embossing is great! I did get one die from cuttlekids, a little snake that looks just like Caitlyn's lovie snake. It was too cute to pass up on. Anyway, I haven't had that much time to play since I got but I did at least get this card done since getting home a couple hours ago.
Colors :
Amethyst, Hydranea, Topiary, White Daisy
Stamps :
Rustic Flowers, From me to You
Inks :
Hydranea, Amethyst, embossing pad
Accents :
Buttons, white EP and acetate, white waxy flax, white organdy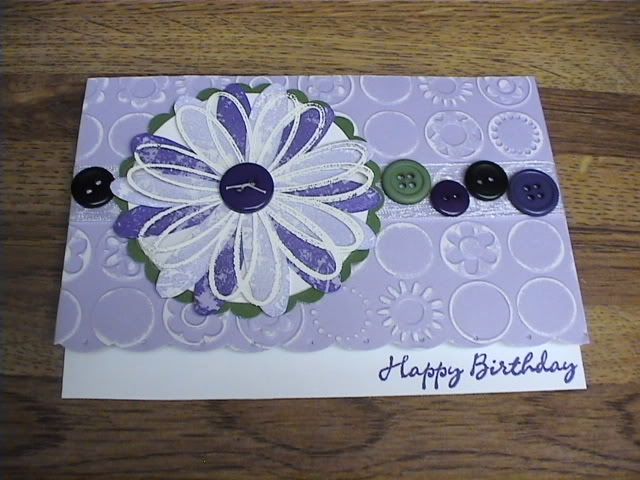 Flower focal piece was made by first using a scallop punch with topiary for the backing, then the coluzzle for the white circle. Flower from Rustic Flowers was stamped in Amethyst on white CS and Hydranea on Amethyst CS. Line flower was white embossed on acetate. Layer with dark flower, light flower then acetate. I used a button for the center which isn't as dark as the picture shows it. Background was embossed with the cuttlebug then sanded with 100 grit. Edge was cut with wave provo craft scissors and holes were done with a paper piercer.