I decided to go ahead and make Audrey's birthday card using the basic same design I had with our niece's. Initially I wanted to use my white gel pen to do the doodled circles on the B&T but unfortunately it appears I need a new gel pen as mine is dead, hence the embossing. The really good thing is it still turned out cute!!
Colors :
Pink Carnation, Baby Pink, Orange, White Daisy
Papers :
Baby Pink CS, Pink Carnation CS, Orange CS, White CS
Stamps :
Solo T, Groovy, Confetti and Favors
Inks :
Pink Carnation, Orange
Accents :
Baby Pink brads, white embossing powder and acetate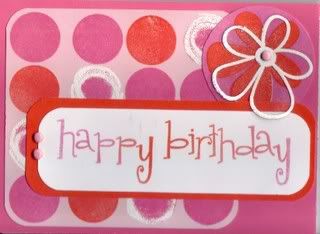 I did change the colors a little. Instead of bubblegum and watermelon I just used pink carnation. So the colors are pink carnation, orange, baby pink, and white. Stamp sets are solo T (the circle), confetti and favors, and groovy which I haven't used in a really long time (like almost 2 years). Now for my embossing horror story. I had read on the some scrapping boards that you can make your own embossing buddy using baby powder or the like and putting it into a sock. You rub the sock over the paper and voila, it's supposed to keep the embossing powder from sticking to the paper so that your stamped image comes out clean when you emboss it. Well, complete backfire! I did this and my powder clung to my transparency vehemently!! I was blowing on it, flicking the back, anything to try and get it off. Needless to say I wasted a bit of powder since it went everywhere except on the paper I was using to catch it so I could put it back in the jar. The flower ended up coming out alright though, even after my powder battle.