Colors :
Vineyard Berry, Breeze, Ocean, Desert Sand, White Daisy
Papers:
Just Chillin' Lvl 1, Lvl 2, and Stickease (Winter '06)
Stamp Sets :
Boutique Alpha
Inks :
Desert Sand, Cocoa, Vineyard Berry, Ocean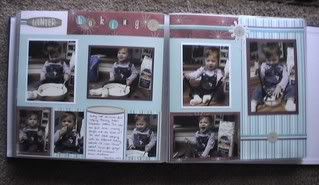 Audrey's first time baking using the Lvl 1 kit pages that is Cherish's 'Photo Shapes' (pg 46) basic layout. Stickease used for the title and embellishing. White daisy and Vineyard Berry CS used for photo matting some of the photos.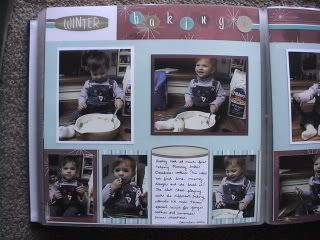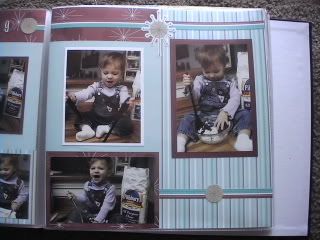 A closer look at the pages. These were very simple and quick and the paper pack always reminds me of cocoa or winter cooking more than snow so it went perfect with the winter baking theme.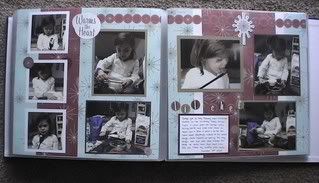 Caitlyn's pictures. Also from the lvl one kit. Desert sand and vineyard berry CS for photo and journal matting and stickease for embellies. Another set of very quick pages. ;D
Baker Girls/Sisters using Cherish (Treasure Tags pg 110). I altered the layout a bit so that I had space for the titles and moved the journalling. Stickease and stamping along with the lvl 2 PP. I really like how fast these came together and how adorable they turned out. About an hour and a half for all 6 pages :D. I used most of the rest of the paper pack to scrap Caitlyn's birthday since it's in Dec. This set seemed more party oriented than Christmas. I really love the stripe and the vineyard berry/snow B&T :D.