I'm glad I checked up on the bella forum today as I had totally spaced the new bella line reveal on Friday! Crazy me! So I played today for the challenges. Good thing they weren't due until Monday night ^_~
BRSC22 - Sketch challenge and slight BRIC22 accessories challenge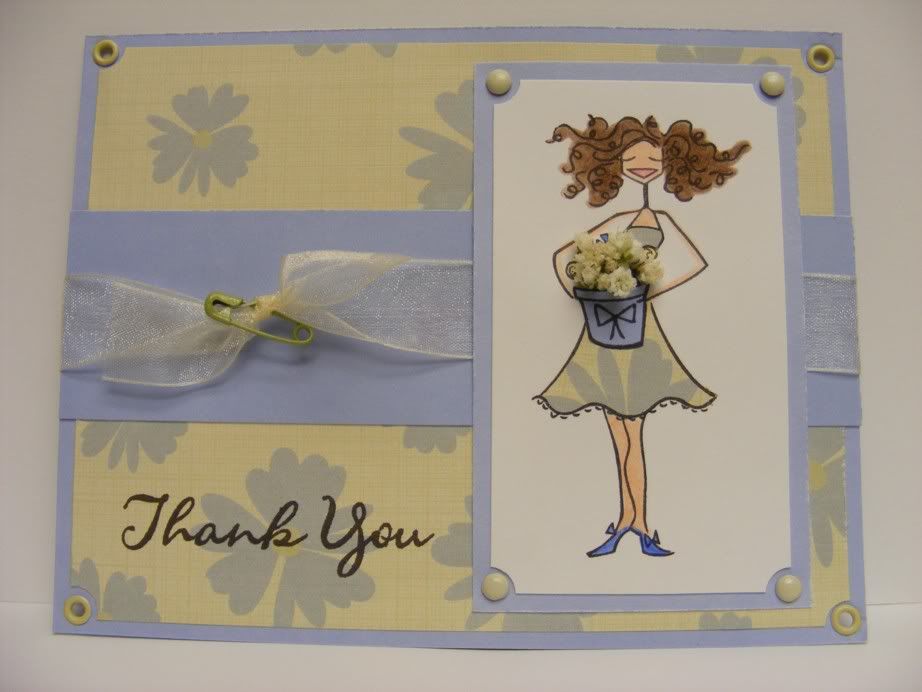 Colors : Lilac Mist, White Daisy, Colonial White
Paper : Unknown
Stamps : Flowahbella, From Me to You (CTMH)
Accents : Eyelets and brads in col white, ivory organdy, garden green safety pin, dried baby breath
This is the first card I did. Made for the Bella Reveal Sketch Challenge. I thought it would be fun to use some of the baby breath from my Valentine's bouquet in her flower pot. I made a slit across the top of her pot and put the stem from the baby breath through there, pulling and popping off some of the lower flower buds until I got it to where I wanted it. I secured the stem in the back with good old fashioned scotch tape.I've had this paper forever and finally just pulled it out and used it! Flowahbella's dress is also pieced with the same flower paper. Her pot is pieced from the lilca mist CS. All around a pretty easy card, the hardest part was piecing her dress.
BRBG22 - Use as much bling/glitter as you want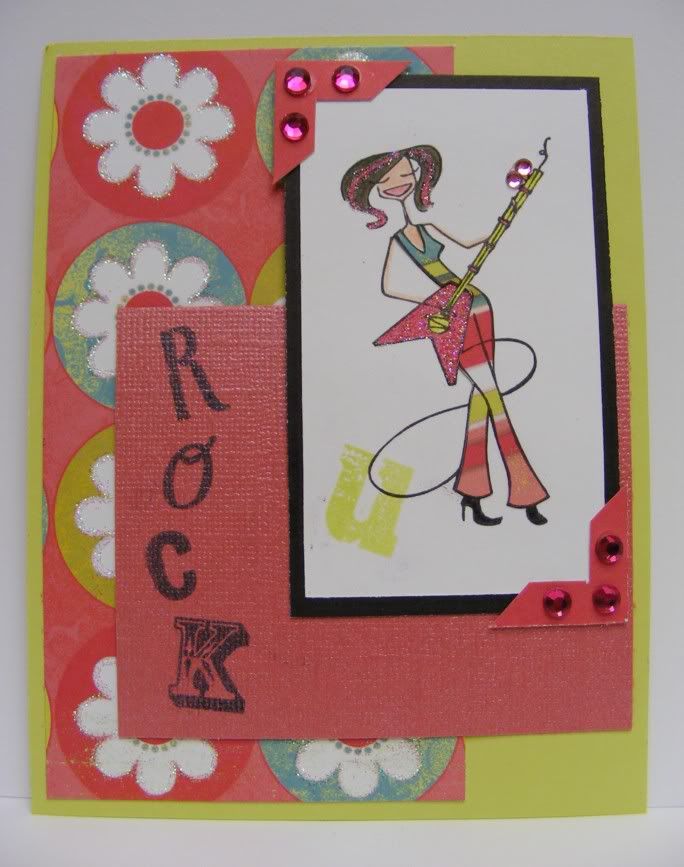 Colors : Kiwi, Black, White
Paper : Minds Eye, Bazzil shimmer/textured CS, CMTH CS
Stamps : Rockabella, Delightful Alpha
Accents : Rhinestones, Pink Glitter, Prisma Glitter
Made for the bella bling/glitter challenge. I glittered the background paper flowers with prisma glitter. Rockabella's guitar and hair highlights are glittered with the pink glitter. Rhinestones on the photo corners and on her guitar and shimmer CS used. A very fun card :D I really enjoyed putting this one together. Her outfit is pieced from the striped coordinating Minds Eye paper.
BRIC22 - Use an embellishment that's not a normal embellishment
Colors : Baby Pink, Black, White, Hollyhock
Papers : Stylin' (CTMH), Bazzil Shimmer/Text CS
Stamps : Dryabella, Doodle Alpha
Accents : Black brads, Black hair clips
So I thought using hair clips would be a cute idea. These were bigger than I thought they would be. I wish I had some of the baby ones or the ones my girl has a few months ago with fun flowers on the end (they don't keep clips in their hair), but I figured these would do. I tried to keep the card a little more clean since bella is just getting out of the shower ^_~