I had made the goal of scrapping my 2006 pics within the next 6 months so I can be caught up more in my scrapbooking. Along with that goal I had made the tentative goal of doing a page a day to help me reach my goal of scrapping my 2006 pics. Well January 30th rolled around and I realized I had only 14 pages done!! So Wednesday and Thursday I just scrapped. I hardly got on the computer, I let my hubby do dishes, laundry was put on hold and I scrapped whenever I wasn't with the girls. I got one layout done during the day on both Wed and Thurs then the others were completed after the girls went to sleep. I stayed up until just past midnight both nights to get all these done and it was well worth it. Total finished was 8 two page layouts for a total of 16 pages and almost completely catching me up to my layout a day goal. My bellas even arrived yesterday morning and still have not been touched because I was so determined to get caught up! This is Layout 8 from the scrapathon - Quirky Caitie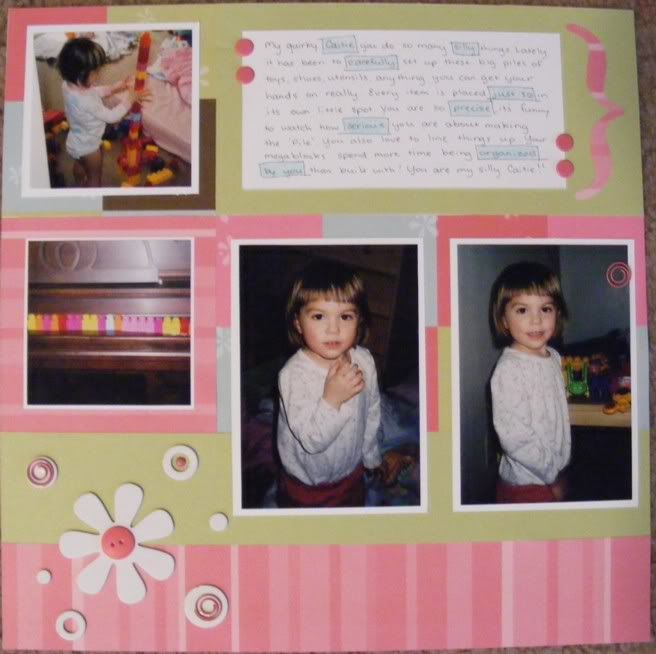 Colors :
Hollyhock, Heavenly Blue, Sweet Leaf, White
Papers : Stylin' (Pink Stripe), Groovy Blossoms (Squares)

Stamps : Doodle Alpha
Accents : Hollyhock Accessories; Dimensional Elements Alpha, Simple Alpha, Flowers, and Ribbon Slides
This one turned out way cute! I thought I had used up all of the Groovy Blossoms paper and found this last sheet hiding with my Stylin papers which went perfectly with the stylin pink stripe paper. I did some more colored in blocks on my journaling on this one. Uses Imagine's Understudy.