*Edit* Alright so I devised a way to scrap what I wanted without a pic of me (I'm always the one behind the camera but I'm trying to learn to remedy that :D) So here's the layout I did!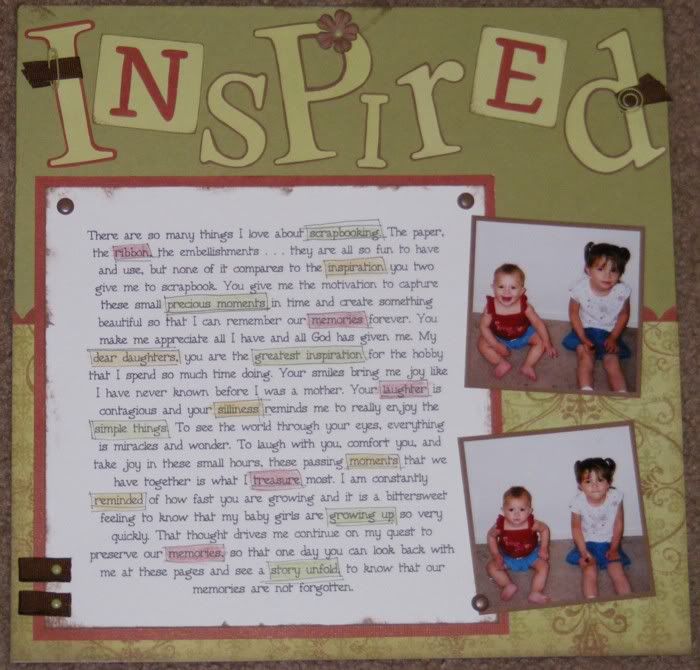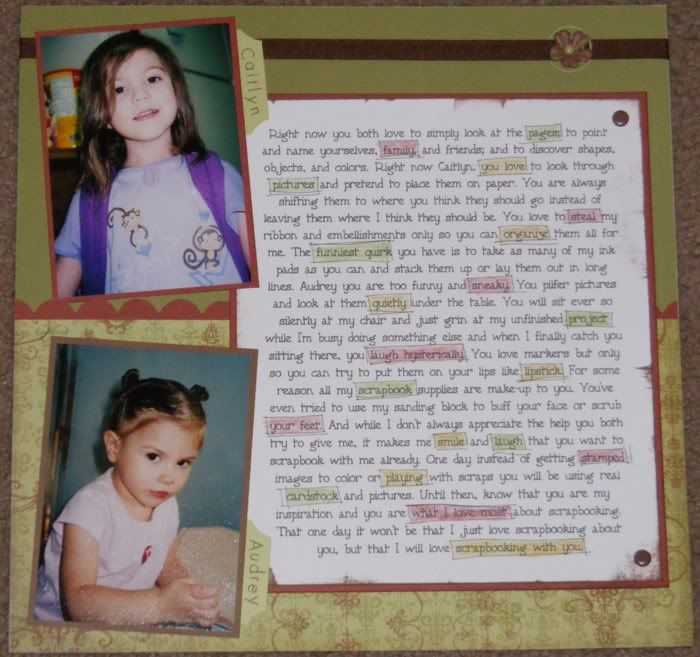 Colors : Olive, Barn Red, Sweet Leaf, Chocolate
Papers : Life Delights
Stamps : Sans Alpha
Accents : Ribbon, Garden Green Accessories, Chocolate bigger brads, Primas
I won't post everything I journaled since there is so much. I wrote about my daughters being my greatest love and inspiration for scrapbooking and why on the left page and on the right I wrote about the things they do now with scrapbooking. Younger pictures on the left layout since I talked about how they are growing so fast and that I want to preserve these special memories and the right layout is current pictures to go along with the journaling of what they do now with my scrapbooks and scrapbook stuff.
So Tuesday's Challenge is actually fairly simple :
What do you LOVE about scrapbookin/cardmaking?
I contemplated making a page but I really want to get a pic of me scrappin' for that. I'll have to ask my hubby to do that some time, he's still getting used to my new digi camera. So, what do I love about scrapbooking? Well aside from EVERYTHING, lol... it's my way of expressing myself artistically. I've always loved to draw and create things ever since I was little. Leave me alone with a pencil and some paper and I was set for hours from toddler age to teenager. So it's pretty natural that I love scrapbooking. I love the design element and playing with all the fun embellishments. I also love that when I scrapbook my pictures I feel so accomplished. Stamping is a newer love that started with the acrylic alphabets. I was crazy about being able to make my own titles using the colors I wanted with the alphabet stamps. After that I started small with just some flowers and little girl stamps but soon I was addicted!! Scrapbooking is my stress relief. It's what I do for enjoyment and I feel extra happy because I'm also being productive by preserving our memories! Basically, I love everything about it!