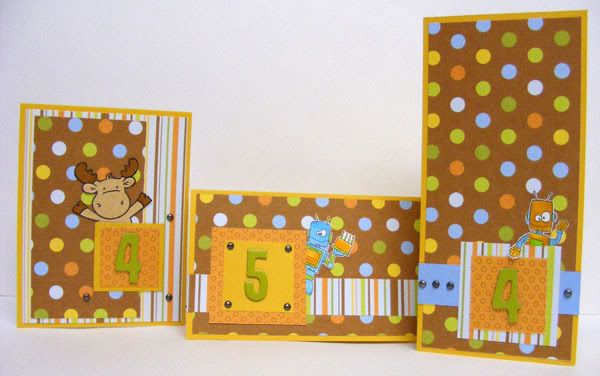 I think I've just found my new favorite way to make kid's cards! Just two sheets of double sided pattern paper and a couple sheets/scraps cardstock and I was able to make these seven darling cards. I had bought these two papers together with the intent of recreating the cute playground layout in my local scrapbook store. I even got the diecut flowers to go with it. Well, two years later and the paper and diecuts still sat unused since I couldn't find photos that I felt went with the paper. So I decided I should make some little boy cards for our nephews' birthdays which are coming up in the next few months.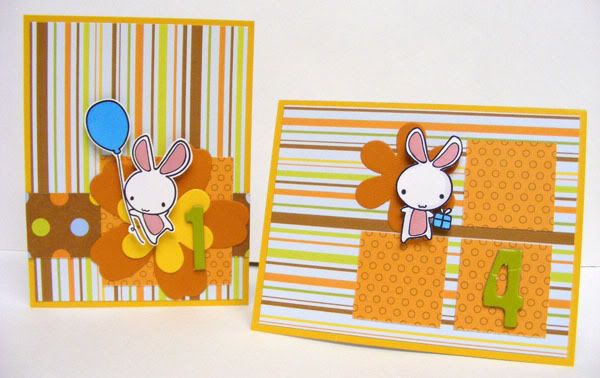 Supplies : Paper by Pebbles; Cardstock and Brads by CTMH; Robots from Stamping Bella; Thickers letter stickers by American Crafts; Bunnies by Greeting Farm; Precut flowers from LSS using Bazzil Cardstock; CTMH and Copic Markers; Pop Dots;
Of course after putting together the two robot cards I thought I might as well just go ahead and make cards out of all the paper. It worked out perfectly too since I could use the flowers on the cards for our nieces and the Riley card could be used for another nephew even though his birthday isn't until March. It never hurts to have them already made, especially since I often forget until that day to make a card! My fun new discovery was simply cutting out the cute stamped images and putting them on the cards instead of doing the usual matting.
A little while back I had seen a simple birthday gift set that used the number stickers to use for ages 1-9. I thought it was a great idea to use up the numbers in my thickers set so I applied that to these cards. I noticed this also helps me remember who I have cards made for. With 8 nieces and nephews and another on the way it gets a little crazy trying to keep track of just the kid's birthdays! Anyway, I hope you enjoy my quickie kidlet cards and have a terrific Thursday!