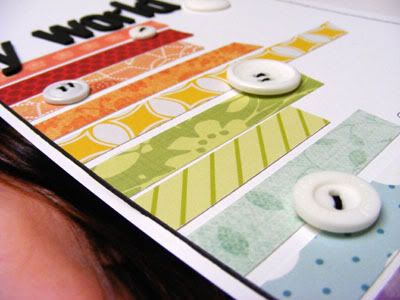 Use them up! This weekends
Practical Scrappers
Challenge was how to use scrap paper. Be sure to check out
the site
to see what Design Team B made for this challenge. Everyone organizes their scraps differently. I keep the main bulk of my scraps in two 13x13 zip bags, one for each of my main paper styles - cutesy and pretty. The rest are separated by holiday or seasonal. When I use my scraps I start with a base concept - usually one or two scraps or papers which are going to set the tone for the rest of the pile. Then I simply pull out everything from my scraps that match my concept. Usually it's a lot of scraps but I love having a lot of options. Then I go through my pictures and find what fits the papers I picked and after that whittle down the papers I want to use on the layout. And that's exactly what I did to pick the scraps to create these first two layouts.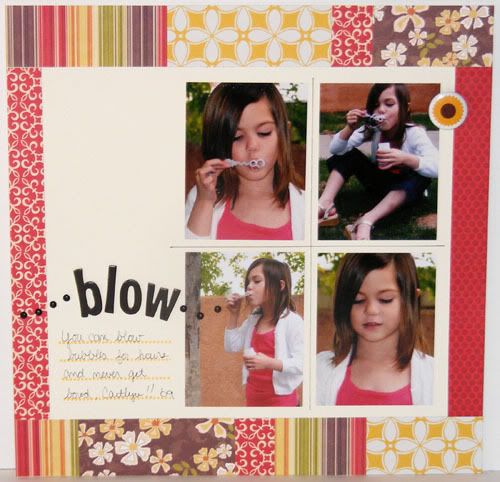 Patch it up! Making these fun border patches or doing center patches has long been a popular design with scallop and shaped patchwork creating the newest trends. Here I kept a simple straight patchwork border. This is great for those smaller scraps you may have where there isn't enough to make a big presence on a layout. Keeping the bulk of the layout a single shade helps let the patterns in the tidbit scraps to really shine whether they make a border like mine or take center stage with your photos. I kept the center of this layout clean and separated the photos by using a ruler and drawing a line with my black journaling pen. The curved title and brads emphasize my DD blowing bubbles and some stamped lines for the journaling finish off the layout.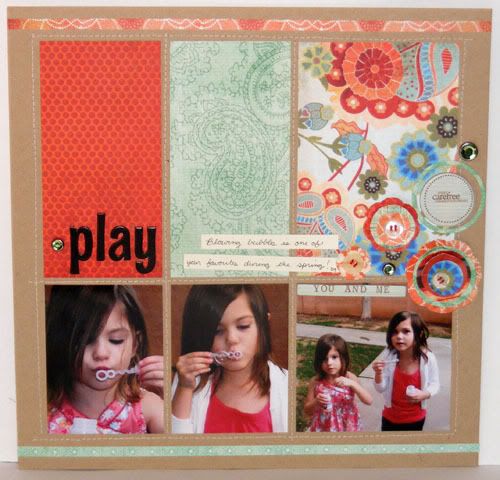 Do it all with scraps! This page I not only took my scraps to make big focal blocks of pattern, but I also created the floral embellishments with various scraps to accent the page. Some sewing adds subtle separation and a border. A really fun approach to using up scraps that I do all the time is to make embellishments out of scraps that aren't even a part of the paper lines used to make the layout like in my
Fashionita layout
where the bloom and photo corner were made from My Minds Eye scrap papers while the main layout was made with my new Marrakech Basic Grey papers. Try paperpiecing your own elements from scraps or use a die cutting machine to create a fun patterned title!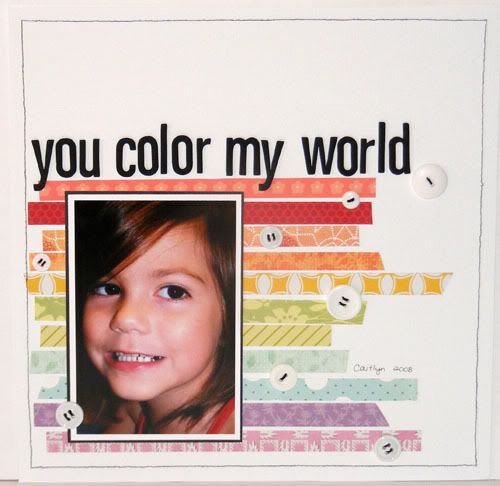 Make a rainbow! Admit it, you probably have scraps in every color and the rainbow effect is hot in crafting right now. Paper piece a cute rainbow for a card or create a rainbowed focal on your layout. Here I cut strips from my scraps to create a fun rainbow striped backdrop for the photo. I really wanted to keep the focus on the rainbow strips of pattern papers so everything else was kept neutral. A white textured base really lets the colors pop and the black stitched border gives the page a nice frame. Using black and white even for the embellishments keeps the attention on the rainbow I made and helps me feel the layout is now complete. I hope you enjoyed the layouts and are inspired to use up your scraps! Don't forget to visit the
Practical Scrappers Blog
for more examples and have a great Monday!