Finally some Thanksgiving colors for you, lol! To play use at least 3 of the colors and comment me with a link to your artwork so I can post it here. Have fun with the challenge and have a terrific Thanksgiving week!
Goldrush
Brown Bag
Garden Green
Cranberry

Alanna's Sweet You Are Card
Sparkle's Wonderful MFT Challenge Card
Marcia's Darling Snappy Birthday Card
Jena's Lovely Thanksgiving Cards
My Samples: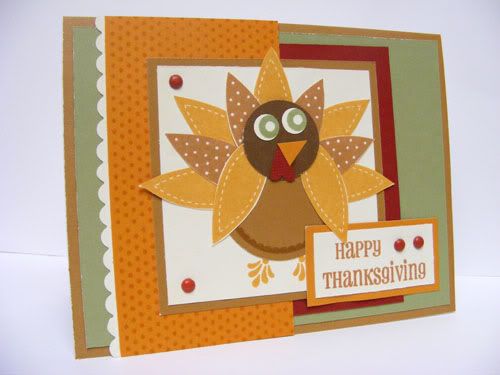 Supplies: Spot on Backgrounds, Playful Petals, Star Struck, and Say it in Style Stamps sets - all products CTMH
I made two cards for the challenge because I messed up on my turkey card, lol. Well I didn't mess up so much as the paper I RSed just seemed way to busy for the turkey. I used circle punches for the turkey's body, head, and eyes. Star Struck for his pupils and the trim around his belly. Playful petals for his feathers, wings and feet. He was fun to make for a one time thing but nothing I'd ever mass produce, lol. Here's the paper I made to go with him.
It's very fun but it took the focus away from the turkey. So I used the paper to create another card:
Supplies: Star Struck, Cottage Floral, and Friendship Wordpuzzle stamp sets - all products CTMH
I went away from the Thanksgiving theme and made just a fun flower card to fit the paper. I think it works out a lot better. This was very quick to make even with all the stamping I did. I am really loving these colors together. I wanted to try leaves with them as well, but we'll see if I get a chance for that later. I have a lot of other projects stacked up to do, so I might not get around to it. Anyway, have fun with the challenge! Thanks for stopping by :D