So for the past year I have been looking at the
Papertrey Ink stamps
but haven't gotten any before. They seem like such classic stamp sets to me in the way that I think most of them would never go out of style. Well, I happen to be such a window shopper, lol. Even with crafty stuff. I look and look and plan to buy but many times never get around to it. This holiday season they came out with some of the best holiday stamp sets I had seen though, so I finally dove in and ordered some.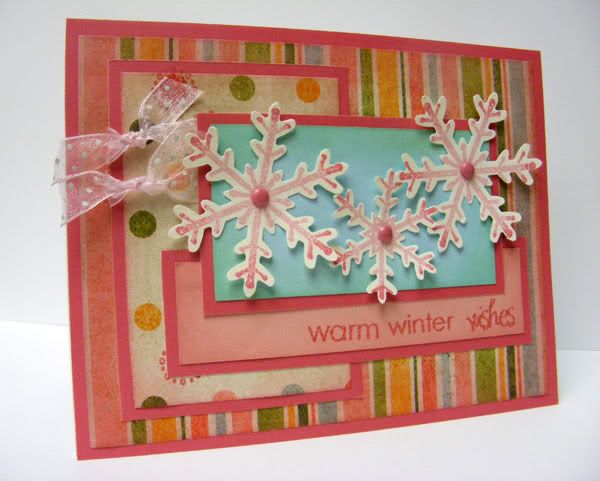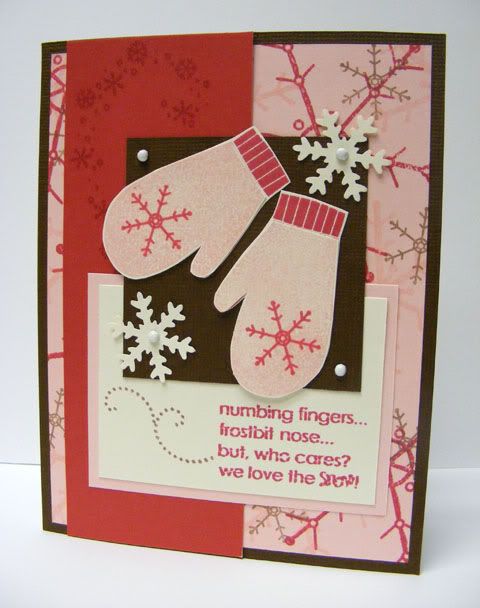 These first two are my favorite and use the SCS sketch 199. They had 2 sketches that week, one horizontal version and one vertical version so I tried out both of them. The horizontal card I made first and the vertical card I made last out of this batch of cards. I used the Snowfall and Snowfall additions stamp sets for these two cards. And look! I actually random stamped, lol. I had also been slowing picking up the few snowflake punches that Robert's had using my 40% coupons since the stamps are made to coordinate with the Marvy punches (yay!). I'm a little sad they don't carry all 5 sizes but I think the three I've gotten will be the most used anyway.


This was the second card I made. I used another SCS sketch, SC195. The circle element was optional but I thought it would work perfect with the Holiday tags. I've also been wanting to use up this paper so I kept with the pinkish theme. It's going to be a long time before I am willing to splurge and get some nestabilities so I'm thinking about using a coupon to get the marvy circle scallop punch that fits these to make some easy holiday cards. I just kept thinking, wouldn't this card have looked so much cuter with the scallop circle, lol! I used the snowfall stamp set for the snowflakes but wanted them to pop out a little more so I tried using my white gel pen to outline them. I think the look turned out pretty neat!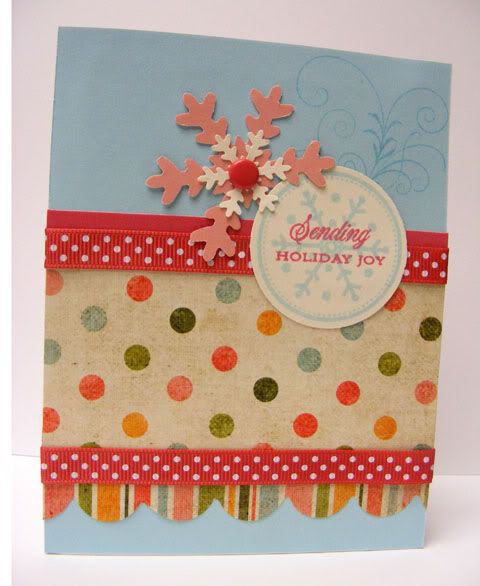 And here was the third card I made, using up the rest of these two design papers. I was trying to go for a simpler card and kept thinking I didn't like it much, but that was probably because I was a bit burnt out on using up this paper, lol. Now I think it's pretty cute, but before I was so 'blah!' about it. I've got quite a few Christmas cards to make still so you're all going to be seeing a lot of that in the coming month.
And for some really good news :D Paul had one root canal, the other tooth didn't have much wrong with it so he didn't need an extraction and he was able to eat dinner last night without any pain (this was after the numbing wore off)!! Yay! The dentist has to wait a couple weeks before putting the permanent crown on both teeth to make sure all went well with yesterdays root canal but it is looking good! Hope you all have a fabulous Tuesday! Thanks for visiting me :D