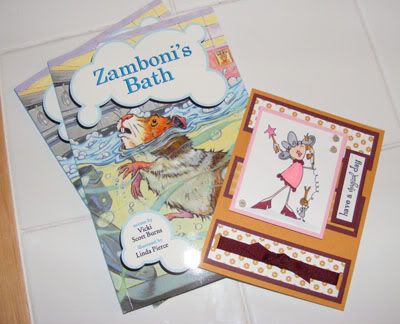 We got a few wonderful surprises in the mail Friday and Saturday this week. Friday the girls got these fun books from Vicki and with it she sent a card for me too! She makes the most darling Stella cards! I love the fall colors in this one and the happy sentiment. The girls loved the mouse down there by her shoes, lol. The books are ones she wrote about a silly guinea pig and she sent a couple copies to my girls. She even autographed the inside with a little note to each of them! Thanks hun, this was just too sweet! The girls love the pictures of the guinea pig and though it's quite a bit longer than the books they are used to Caitlyn sat through nearly the entire book the first time I read it, then she came back later to have me finish reading the end!
Saturday was another surprising mail day as I got this wonderful box of goodies from Jenn and these darling Tilda images from Sparkle (picture below)! It was so sweet and Paul was just as touched as I was that people I know from online would send such wonderful packages and lovingly made cards! The scroll tree card Jenn made is so pretty, the little dots are there have a pearl finish! And Sparkles card is so cute!! I hadn't seen this CC Designs stamp and Paul thought the monkey was awesome! The box that Jenn sent was just amazing, I'm going to love using the new punches and flowers! And I already have plans for one of the little baking Tilda's for the girls' latest pictures of them baking with me, it's too darling and I've been wanting to find a way to incorporate some image stamps into my scrap pages! Thank you so much Vicki, Jenn, and Sparkle! Your gifts really made our weekend!!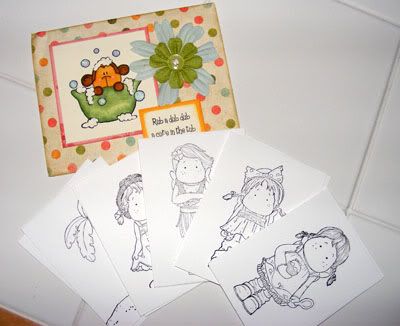 I'm so thankful to have so much support online! Whether it's a thoughtful package, a card, or a simple comment, all your messages add extra happiness in my life. Many times when I'm feeling down or am just having a hard time I can pop online and see that some of you have left me a comment. Even just reading that my artwork is nice is so uplifting. I'm grateful to have such wonderful blogging sisters! Thank you ladies and have a beautiful Sunday!