Hope has been doing the color challenges on the bella forums with a twist, and it has been a lot of fun for me to try and get both the challenge and the twist in my cards :D This week the colors are Tulip, Buttercup, and Orange and the twist was to color in your image using a medium you don't normally use.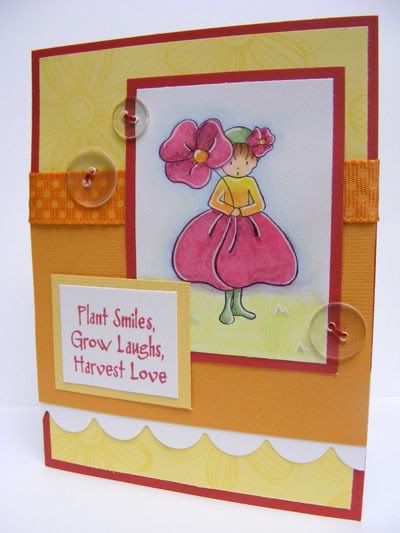 Supplies: Poppy Bitty Bloom by Stampingbella; some CS, Buttons, Sentiment from Treasure Life and background flowers from With Love stamp sets by CTMH; some CS by Bazzil; Ribbon by P Inc.; Colored pencils by RoseArt and Crayola; Odorless Paint Thinner
Well since I had just barely gotten some odorless mineral spirits I thought this was great opportunity for me to immediately dive in and try out the
Gamsol Magic technique
! I think I did alright for my first time. I messed up a ton, but nobody needs to know where except me, lol! I am putting up Christmas decor with my girls and niece since she is in town and I am watching her while her dad is at work. And I'm not the least bit disappointed to not go out in that shopping craze today!!! It's been raining here the past couple days and people drive NUTS here when it rains. Add black Friday to that and I am glad I was planning to stay home anyway, lol!! Whatever your plans, have a great crazy black Friday!!