You've probably all noticed I've been on a Christmas kick lately, lol. So the colors for this week are inspired by winter. I noticed that I almost never use Ponderosa Pine. With that in mind I started matching up colors and found that Juniper looks gorgeous with this deep green! Some neutrals and instantly a homespun winter feel came to my mind. With all the rage going on with kraft paper lately I thought I'd incorporate CTMH's closest neutrals to that. To play use at least 3 of the colors and leave a comment with a link to your artwork so I can add it here. Have fun with the colors!
Alanna's Sweet and Simple Anniversary Card
Laurel's Sassy Friends-Don't-Give-Friends Card
Pat's Darling Keep Smiling Card
Jena's Lovely Dance Layout
Sparkle's Sassy MFT Shoe Card
Jenn's Sweet All Decked Out Snowman Card
Emilee's Darling Double Challenge Snowman Card
My Samples: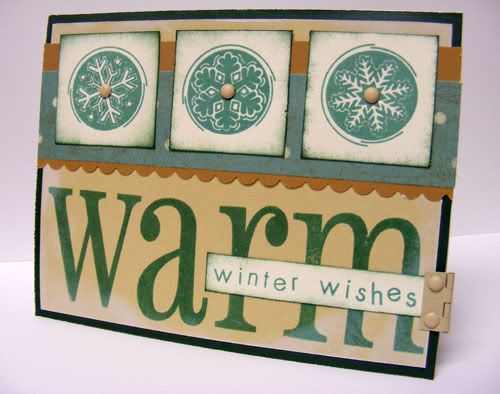 Supplies: Cardstock, Perfect Day paper, Bamboo brads and hinge, Music of Winter, Friendship Large Alpha, and Sans Small Alpha stamp sets by CTMH
Even though I made this card second this is what I invisioned for the color challenge. A crafty homespun winter card. This was very simple to make and the inspiration for this card comes from the Smile card on page 78 of the CTMH Fall/Winter 2008 Catalog. I haven't used these snowflakes in ages though I just adore them and the large text in the Smile card really inspired me to do an oversized sentiment.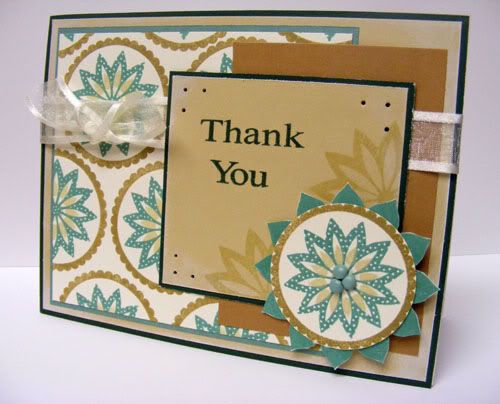 Supplies: Cardstock, Col White Ribbon, Juniper Brads, Gratitude, Cottage Floral, and Star Stuck stamp sets by CTMH
This card I made first. I wanted to try something a little different with my Gratitude stamp set and this definitely is different for me. I made the paper first and fell in love with the design so I changed the position of the panels from the SC201 card sketch so that more of the paper was seen on the card. I mixed my Cottage Floral set with the Gratitude and the petals match perfectly with each other!
Here is the paper I made for the card - Desert Sand, Juniper, and Bamboo stamped on a 4 x 5.25 sheet of Colonial white. I am absolutely terrible at random stamping, lol. I've done the triangle thing, just randomly stamping anywhere, or even trying to mentally place each image visually on the paper before setting the stamp down and it never turns out the way I want. But though I can't random stamp, I think I do okay with stamping out grid-like designs. I used the scallop circle in the star struck set, it made creating the paper so easy as I just had to stagger the circles then stamp the flowers inside! Anyway have fun with the challenge! Thanks for playing!