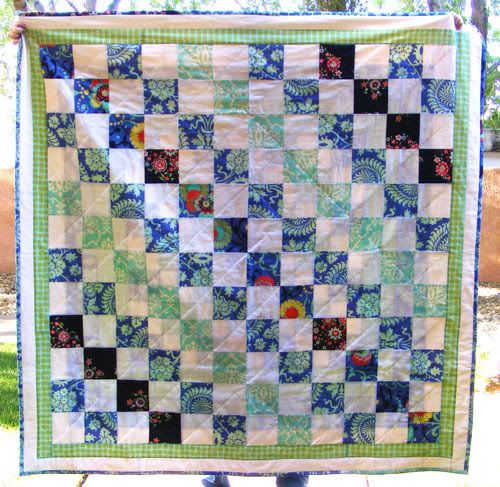 Since last Friday I have been cutting, sewing, and pressing almost non-stop for this. Paul's quilt for his birthday which is this Sunday. I finally got the inspiration I needed to make him one and I've never been more proud of any single project than this one!! Of course it wasn't a surprise, it's kind of hard to hide that your making a quilt when you sew on the dining table, hehe. But I think that made it even more special to him since he watched all the work and love I poured into making this for him. He's never fawned over any of my crafty projects but he sure was over this while I was making it. Probably because he knew it was his ;)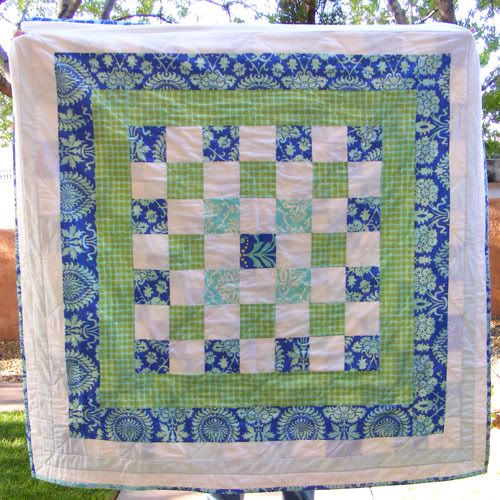 Here's the back of the quilt. I'm finding that I really like piecing the back too, since you don't have to have yards and yards of a single fabric, you can simply put together what you've got left! I love that the back is as pretty as the front and Paul was so cute saying "Now it won't matter which side I use!" The quilt was made with Kona White and all but the aqua damask print is from Amy Butler's Love collection. Our quilt store only has a few fabrics left on the bolt. The blue/aqua print was the one Paul and I liked the most and luckily they had the bolt of that. But the others I hunted down and got the last fat quarters they had since they didn't have any more on the bolt for those. Except the dots, I had bought a few yards earlier this year because I was sure I'd use it on a few projects ;)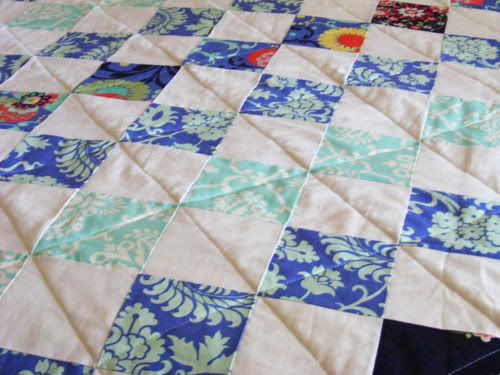 This is a close up of the quilting. I did a simple straight stitch diagonally across the squares and then in the ditch of the borders. My poor little machine surprisingly didn't have any trouble with this, I think because I used the all cotton warm and soft batting instead of polyester batting. If you remember my niece's quilt earlier this year, it was my first machine quilted quilt and it was a beast. I cursed at the quilt and my machine the entire time and I'm guessing now it wasn't eithers' fault - it was the polyester batting's.
Here's how the quilting looks on the back. This totally wasn't done by skill. I simply lucked out with my quilting matching the back. And I'm so glad it did because both sides are so pretty! The finished quilt size is 65" x 65". Paul said he would like an even bigger one but I'm taking baby steps still. This is my first 'big' quilt ;)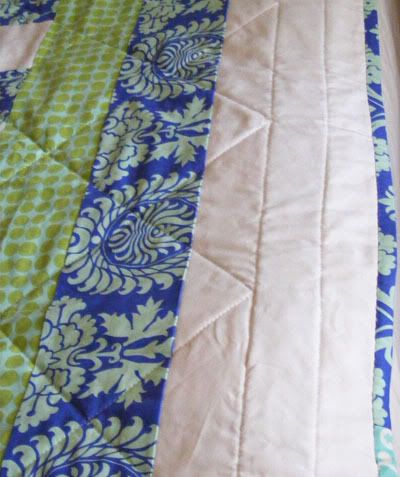 And here's the edge on the back. I love how the front square quilting came past the backside border so that there were some pretty points before the straight around quilting. It adds so much to all the white! Anyway, that's the project that has kept me busy all week. I just finished it last night ;) I even have other quick sewing projects I did just before starting the quilt, and one during since it was for another b-day that I have yet to photograph, edit, and post because I've been so focused on this. Hopefully I'll get to that next week. Until then I hope you enjoy the quilt! Thanks for visiting and have a terrific Thursday!