Put on your sunglasses because this page is seriously bright! This is the first layout I did at the crop. It also happens to be one of my favorites from the entire weekend! I love the colors and all the circles. In fact I ended up having so much fun with the circles that nearly all the layouts I put together incorporated circles in some way. I've been using a lot of Urban Prairie chipboard on my swim layouts, the curved flower petals look so much like splashes ;) It's so nice to find something other than spring layouts to use them on!
A close up of the title and splashes, they just couldn't have coordinated any better!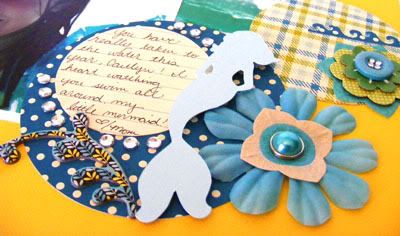 And here's a closer peek at the journaling tab and that cute mermaid silhoutte made with my Slice. It's been forever since I've been Slice card shopping and they've come out with so much new cute stuff! Up this fall is layered images now, so cool! Anyway, enjoy the page and have a great Monday!